I have Irish heritage – you might realise this when you meet me by my blue eyes and freckles which I inherited from my late grandmother.  It's also apparent by my surname which, while it doesn't sound obviously Irish, is distinguishable by it's spelling (people often misspell my surname by leaving off the 'e' on the end which annoys me a bit).
I've never travelled to Ireland though … I would love to go, and although I've travelled to Europe, I had to miss out on a few places due to running out of money after a few months and having to go back to uni.  I've never quite forgiven myself for this lack of ancestral insight at the time.
Anyway, I love anything Irish really.  I adore the lyrical accent, enjoy Irish novels and movies and I have a healthy appreciation for alcohol and potatoes, like a proper Irish person (ahem. In moderation obviously).
So I decided to make soda bread the other day to have with butter and golden syrup and tea.  This is a great bread to make – fast, easy and it's lovely and crusty, yet soft in the middle, just as bread should be.  Combined with butter and golden syrup, it has a lovely sweet/salty combination.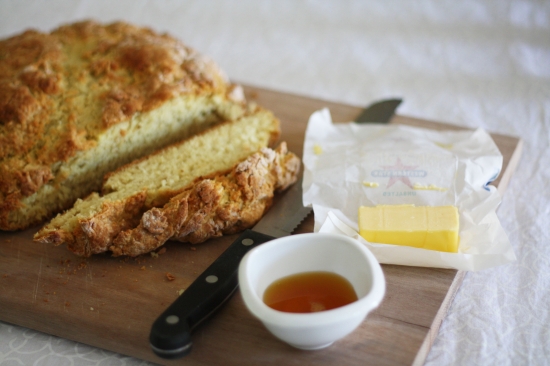 Recipe:
2 cups self raising flour
2 cups plain flour
2 tsp bicarbonate of soda
1 tsp salt
60g unsalted butter, cubed
2 cups buttermilk + 1/4 cup further if required
Preheat oven to 190°C.  Line a flat baking tray with baking paper.
Sift flours, bicarbonate of soda and salt into a large bowl.  Rub in cubed, cold butter with fingertips or use pastry cutter.  Use a wooden spoon to mix in buttermilk to form a fairly soft, sticky dough – add extra milk if needed.
Use your hands to bring together on a clean, floured surface to form a ball.  Shape ball into a 20cm round and place on the prepared tray.  Use a sharp knife to slice a cross in the top and bake for 35-45 minutes or until golden brown and hollow when tapped.
Serve with butter, golden syrup and a big pot of tea.
Adapted from: taste.com.au