A rustic, nutty little salad I make often.  I had something similar once, a packaged salad I purchased in my lunch hour from work and thought, I could make this.  It's a healthy salad with lovely sweet and savoury flavours; great for work or a healthy dinner.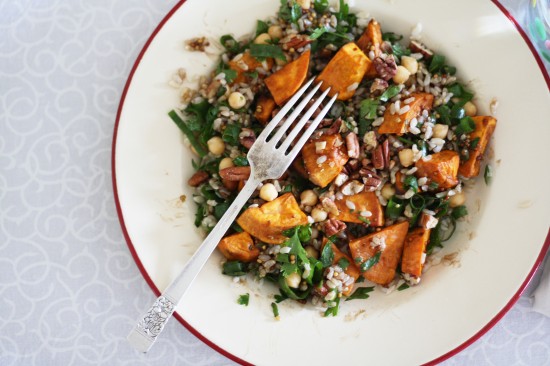 Recipe:
200g brown rice, cooked
160g sweet potato, peeled and diced into bite sized pieces
15mls grapeseed oil
80g cooked or tinned drained chick peas
20mls extra virgin olive oil, flaxseed or walnut oil
1 x 20ml tblspn balsamic vinegar
2 tspns Dijon mustard
20g chopped walnuts or pecan nuts
1 spring onion, sliced thinly (green part)
2 tblspns continental parsley, finely chopped
Freshly ground sea salt & black pepper
Preheat oven to 200 degrees C.
Roast sweet potato in grapeseed oil for 3-40 minutes, or until caramelised and cooked through.
Add brown rice, chickpeas and herbs to a bowl.  Chop nuts and add to the bowl.
Whisk extra virgin olive oil, vinegar and mustard in small bowl.  Allow to sit for 15 minutes or so while potato is cooling for a bit.  Add sweet potato to brown rice and toss gently with dressing – season if you like and toss again.
Serves: 1-2