There's something about cooler weather which makes me want to make elaborate warm and cosy breakfasts.
In summer I throw some cereal in a bowl or have some toast, or if I'm feeling really energetic, will make a fruit smoothie but Autumn just makes me want to cook pancakes or French toast or bacon and eggs and stay in my pyjamas all morning and drink lots of tea and make toast.  Bliss.
We had these on Easter Saturday – almost like sticky date pudding but in pancake form.  I didn't serve the suggested sauce in the recipe as I thought adding sliced bananas and maple syrup was easier, healthier and more breakfast appropriate.
They were fluffy and sweet and just right for Autumn.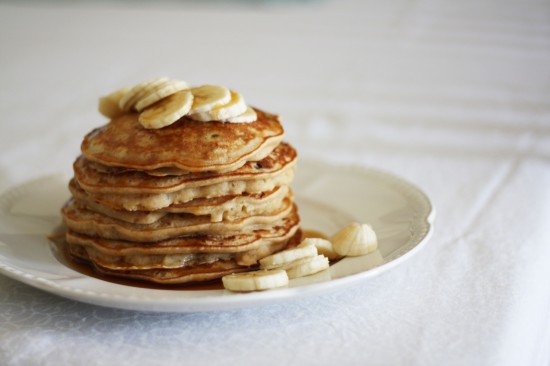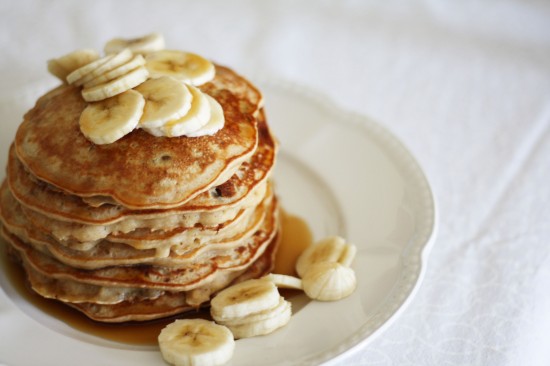 Recipe:
130g pitted dates, finely chopped
1/2 cup boiling water
2 cups self-raising flour
1/2 cup plain flour
1/4 tspn baking powder
2 x 20ml level tblspns brown sugar
1 tspn mixed spice
1/4 tspn ground cinnamon
80g unsalted butter
1 tspn vanilla extract
2 cups milk of your choice
1 extra large egg
2 bananas, sliced thinly
Maple syrup
Melt butter on low heat in a small pan then set aside.  Place dates in a small heatproof bowl and pour over boiling water – stand for 10 minutes until dates are soft.
Sift flours, baking powder, sugar and spice into a large mixing bowl.  Add butter, vanilla, milk and egg to a jug and whisk until combined then add along with date mixture to dry ingredients and whisk until just combined.
Melt a pat of butter in a medium to large, non-stick frying pan or griddle over medium heat.  Add just under 1/2 cup of pancake mixture to pan and cook for 2 minutes, or until bubbles appear on the surface.  Flip over pancake and cook for 1 minute or until cooked through.
Transfer pancakes to a foil covered plate between cooking to keep warm.  Repeat process with remaining batter, adding butter to pan between each batch.  If you find the pan is getting too hot, reduce heat to low/medium.
To serve, divide pancakes between plates and top with sliced banana and maple syrup.
Serves: 4 (8 large pancakes using the measurements above – use smaller measuring cup to make more pancakes)
Adapted from: taste.com.au