Anzac Day, for those readers who aren't from this neck of the woods, marks the date of the first military action fought by Australians and New Zealanders in WW1 (ANZAC = Australian and New Zealand Army Corps).  We remember those who fought on 25th April.
To commemorate, I though Anzac biscuits would be nice to make in all their coconutty and chewy loveliness.  Then I thought sandwiching Nutella between two Anzac biscuits would be a good idea.
It was.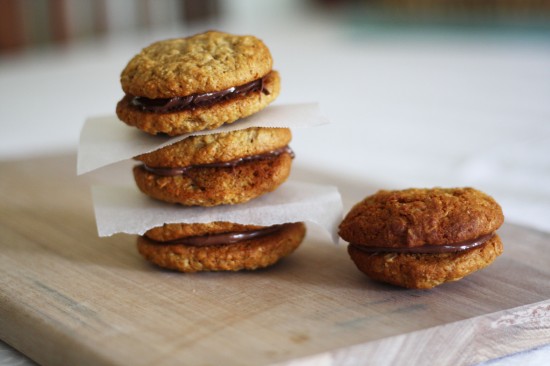 Recipe:
1 cup plain flour
1 cup rolled oats
1 cup desiccated coconut
3/4 cup brown sugar (packed)
125g unsalted butter
2 x 20ml tblspns golden syrup
1 tspn bicarbonate of soda
4 x 20ml tblspns Nutella spread
Preheat the oven to 160°C.  Line two baking trays with non-stick baking paper.  Sift the flour into a large bowl. Stir in the oats, coconut and brown sugar.
Put the butter, golden syrup and 40mls of water in a small saucepan.  Stir over a medium heat until melted then add the bicarbonate of soda and combine well.  Pour the butter mixture into the flour mixture and stir until combined.
Roll level tablespoons of mixture into balls.  Place on the trays, about 5cm apart.  Press with a fork to flatten slightly.
Bake for 10 minutes or until golden brown.  Set aside on the trays for 5 minutes, then transfer to a wire rack to cool completely.
Sandwich Nutella spread between biscuits.
Makes: 12 Nutella sandwich biscuits
Adapted from: taste.com.au