I make this deliciously thick, creamy soup every winter and, as we're heading into cooler weather in Australia, it'll soon be time for cosy, warm lunches so I whipped up a batch the other day.  This soup freezes well and apart from blitzing it in the food processor and the washing up after, is super easy.
This soup has no dairy added; the creamy texture comes from cannellini beans.  It's a fragrant dish as I add ground cumin seeds and rosemary to the onion and garlic mixture when I'm sautéing it down.
The options for toppings are endless – I often add toasted and chopped walnuts or cashews, crème Fraîche or some spring onions.  If you prefer a thinner soup, then add more water before the cooking time.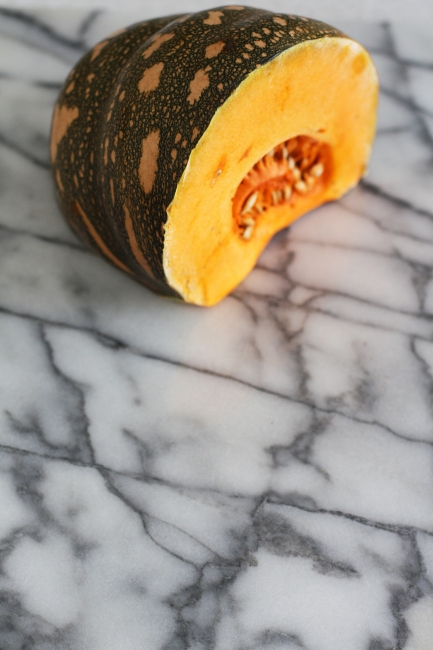 Recipe:
20mls grapeseed or olive oil
1 tblspn chopped rosemary leaves
1 large onion, diced
2-3 cloves garlic, crushed
2 tspns ground cumin seeds
1 1/2 cups just boiled water
1 vegan vegetable stock cube
1 kg pumpkin, peeled and diced
1 x 400g can organic cannellini beans, drained and rinsed or 240g cooked cannellini beans
Freshly ground black pepper and salt to taste
In large saucepan, sauté onion, garlic, rosemary, cumin seeds and seasoning in oil on low-medium heat with the lid on, until onion is transparent.  Stir occasionally, making sure the garlic doesn't burn.
Add stock cube to boiled water and stir until combined.
Add diced pumpkin to onion/garlic mixture and toss to combine.  Add hot stock, cannellini beans and further seasoning if you like, and cook down with lid on for 15-20 minutes, or until pumpkin is soft, and mixture has reduced and thickened.  Stir occasionally to move the pumpkin around so it cooks evenly.
Allow to cool a bit, then blitz in food processor until smooth.  If using straight away, reheat until piping hot, otherwise allow to cool at room temperature then freeze for use later.
Serve with crème Fraîche, sour cream, plain yoghurt or some toasted nuts or herbs.
Serves: 4 large servings