What little delights these are.  Crunchy and sweet, perfect for having with espresso – which has given me a genius idea so stay tuned for a lovely dessert soon.
I didn't have enough almonds so I used some macadamia nuts to make up the difference and they were perfect so I would probably do this again.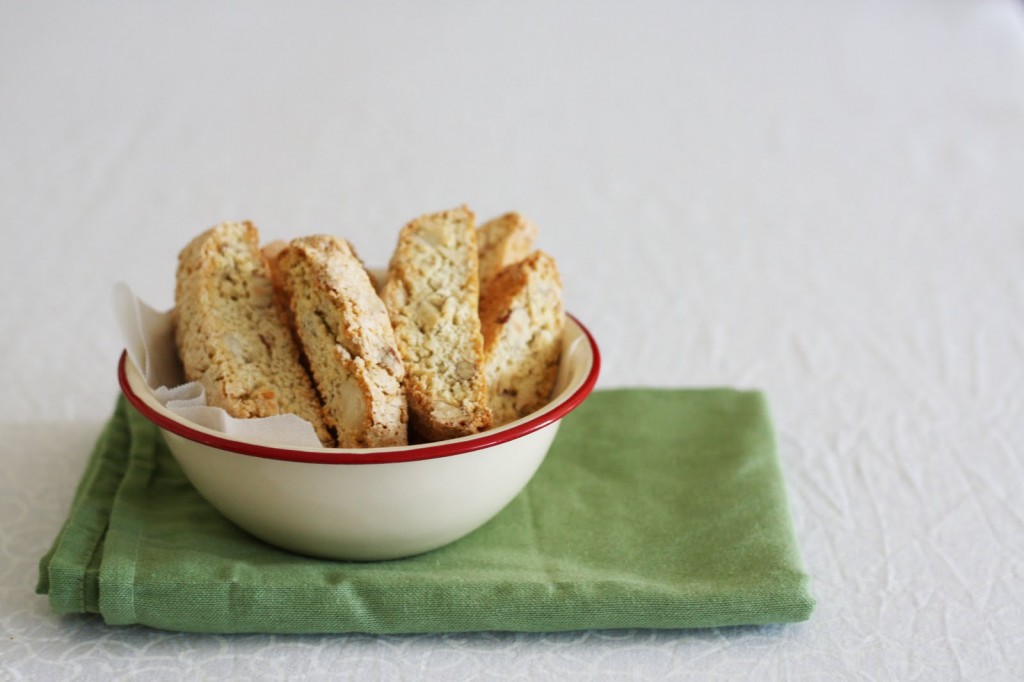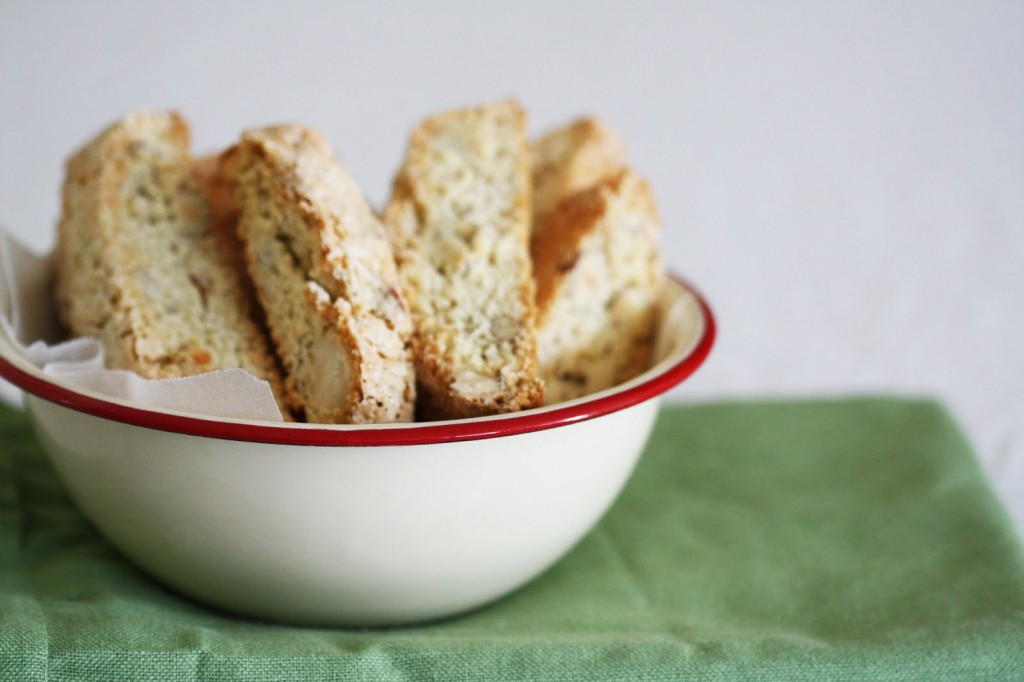 Recipe:
90g whole almonds
50g halved macadamia nuts
1 tspn baking powder
1/8 tspn salt
2 cups plain flour
3/4 cup raw sugar
3 large eggs (59g weight)
1 tspn pure vanilla extract
1/2 tspn pure almond extract
Preheat oven to 180 degrees C.  Toast nuts for 8-10 minutes or until light golden and fragrant, then chop coarsely.  Set aside.
Reduce oven temp to 150 degree C and line a flat baking pan with baking paper.
In a small bowl using a whisk, beat the eggs and extracts together until combined, then set aside.
Using an electric mixer (I used my Kitchenaid) or using a hand mixer, combine the flour, sugar, baking powder and salt for around 20-30 seconds or until blended.  Gradually add the egg mixture and continue beating until a dough forms, adding nuts about halfway through – in the Kitchenaid this didn't take long, only a couple of minutes on speed 2.
On a lightly floured surface, use your hands to roll dough into a log about 35cm long and 8-10cm wide.  Transfer log to the prepared baking sheet and bake for 30-40 minutes, or until firm to the touch (log will spread during baking).  Remove baking pan from oven and place on a cooling rack for 10 minutes.
Transfer log to a cutting board and, using a sharp, serrated knife, slice into 1.25cm slices on the diagonal.  Arrange slices on flat baking pan and bake for 10 minutes then turn slices over and bake for another 10 minutes or until firm to touch.  Remove baking pan from the oven and sit on a wire rack for 5 minutes, then transfer cookies to wire rack to cool completely.
Store in an airtight container with baking paper between the layers (I've read biscotti last a couple of weeks stored in an airtight container at room temperature).
Made: 17
Note:  If you want less crisp biscotti, when baking for the 2nd time bake at 9 minutes each side.
Adapted from: Joy of baking