I love chilli con carne.  I generally make vegetarian chilli, as it's healthier and I usually prefer it, however this recipe, which I found a few years back on BBC Food, is wonderful.  It's rich, spicy and comforting, with ingredients you mostly have knocking around.  It's fantastic on a cold or rainy night, with a couple of glasses of red wine and some good company.
I have tweaked it quite a bit; I added one can of black beans instead of the 2nd can of kidney beans (depending on what I have around), I halved the amount of minced beef, added some red capsicum and sweetcorn and if there's no red wine available, I add around 50ml balsamic vinegar with 80ml water to replace it – this gives the chilli a slightly sweet flavour which I love however if that doesn't appeal, just add water (or get your husband/boyfriend to run out to the bottle shop to pick up a decent bottle of red, they're good at dealing with this type of emergency).
I often serve this chilli with brown rice, sour cream, grated cheese and sliced avocado – somehow chilli seems to go better with brown rice instead of white.  A few times, when I've had some sweet potato I had to use up, I served the chilli with mashed sweet and white potato with sour cream and that was delicious, sort of like an upside down spicy cottage pie (and everyone knows sweet and spicy go well together).  And in fact that's a great idea!  Place some chilli in little ramekins, spoon some mashed sweet potato with a knob of butter on top and bake – those of you with kids would probably be popular after a meal like this (if your kids like chilli that is, I had a dad who was a chilli fiend so I grew up with chilli dishes fairly early).
In any case, give it a try, either from the original recipe or with my amendments.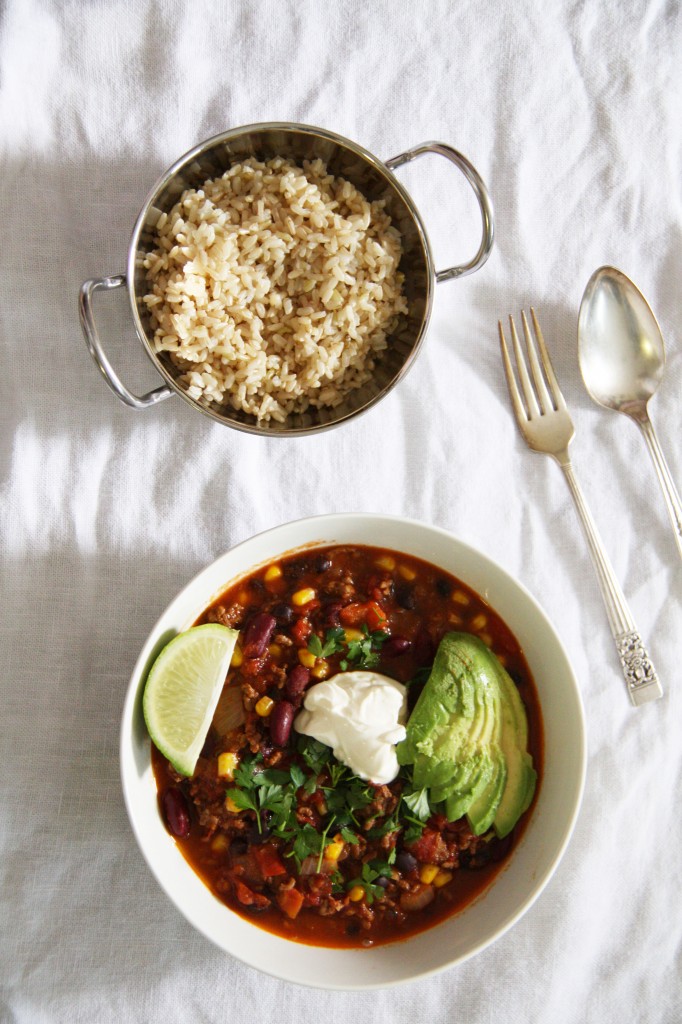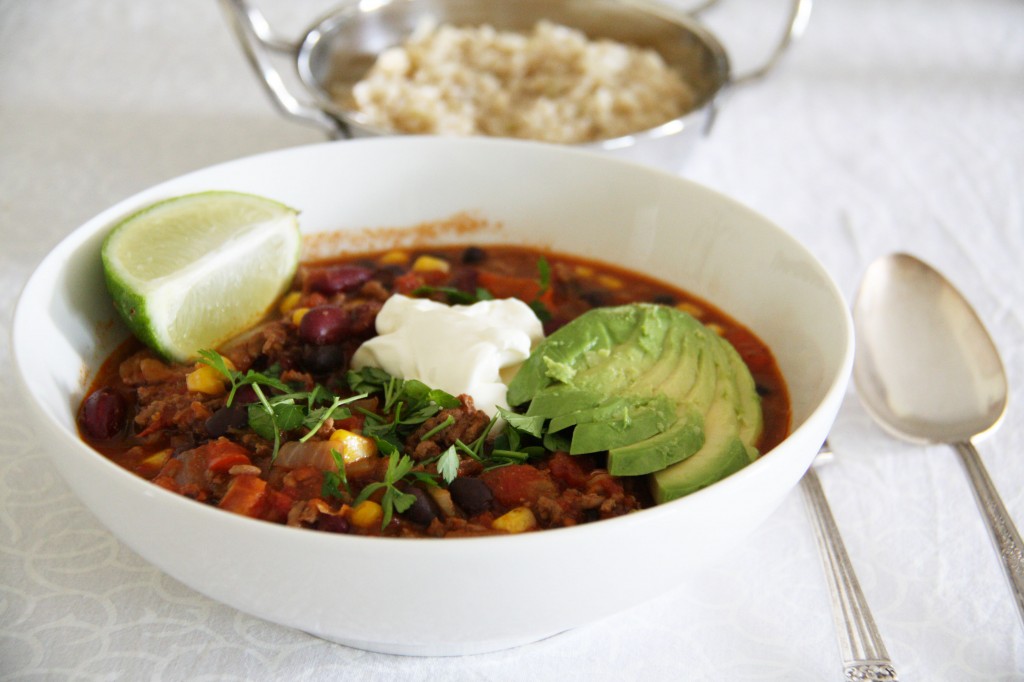 Recipe:
40mls grapeseed or olive oil
2 onions, diced
3 garlic cloves, crushed
3-4 small red chillies, diced finely (deseed if you prefer) or large pinch dried chilli flakes
1 tspn ground cumin or cumin seeds
1 tspn ground coriander
In place of the chillies, cumin & coriander you can use 3 tspns Tex-mex seasoning
1/4 tspn ground cinnamon
1 red capsicum and 1 yellow capsicum, diced
500g organic minced beef or turkey
1 glass good red wine OR 50mls balsamic vinegar mixed with 80mls water
2 x 400g tins diced tomato
50g sodium free tomato paste
good shake of Worcestershire sauce
1 low sodium beef stock cube
Freshly ground sea salt and black pepper, to taste
80g corn kernels
1 400g tin red kidney beans, drained and rinsed
1 400g tin black beans, drained and rinsed
1 bunch coriander leaves, roughly chopped (replace with continental parsley if preferred)

Serve with brown rice, sour cream, grated cheese, avocado and wedges of lime
Heat oil over low to moderate heat in a large, heavy based saucepan and slow sauté the onion, garlic, diced or dried chilli and spices, covered, until onion has softened a bit; add the capsicum and stir through and cook for another few minutes until onion is translucent.  Remove vegetables onto a plate with a slotted spoon, add a further tablespoon of oil to the pan and increase heat to high.  Add the mince, sautéing quickly until mostly browned, breaking down any chunks of meat with a wooden spoon.  Pour in the red wine and simmer for 2-3 minutes.  While waiting, pour a glass for yourself (chef's privilege) 🙂
Stir in the onion mixture, tinned tomatoes, tomato paste, Worcestershire sauce and crumble in the stock cube.  Season with salt and pepper.  Bring to the boil, cover then reduce temperature and simmer over a gentle heat for around 50 minutes to 1 hour, stirring occasionally until the mixture is rich and thickened.  Add the beans and sweetcorn and cook for a further 10 minutes with the lid off.  At the end of the cooking time, stir through the fresh herbs and remove from the heat.
This does make quite a spicy, hot chilli, depending on the type of chillies you're using and your personal taste – use with caution.
The chilli is even tastier a day or two after it's cooked as the flavours develop and the texture becomes richer.  Simply leave it to cool, place in the fridge and heat before serving.  It also freezes very well after cooling down in the fridge for a bit.
Note:  Be careful with the cinnamon.  It's an important component but I once added too much and the chilli had a subtle but strange underlying flavour I wasn't keen on.
Serves: 6
Adapted from: BBC Food