I love a good burger!  I don't know if I've ever said on here (probably but then I have a tendency to repeat myself) but years ago, when I was in my late teens, I became a vegetarian for around 5 years.  I really didn't miss meat at all except for the odd bit of fish, but one day I went out for lunch with my dad and the menu had a burger and chips with the works on offer.  I remember saying, I really feel like a burger dad!  So I ordered this massive burger bigger than my head, ate the whole thing and that was that.  Five years of vegetarianism down the drain!
Ok I still eat mainly vegie now (it's healthy and like a lot of people, I prefer it) but can't really commit to being a vegetarian completely as I'd miss those classics like burgers and roast chicken.
So these burgers are pretty basic although I like to add little bits and pieces like diced olives and sweet chilli sauce to step things up a bit; I made ours pretty thick and cooked them a bit slower so they turned out juicy and full of flavour.  One thing I've learned from making meatballs and rissoles is that you need to season really well, more than you usually would in this day and age of reducing salt intake.  The melted cheese and spicy tomato sauce with a few pieces of frilly lettuce on a fluffy burger bun was a hearty lunch on a recent long weekend.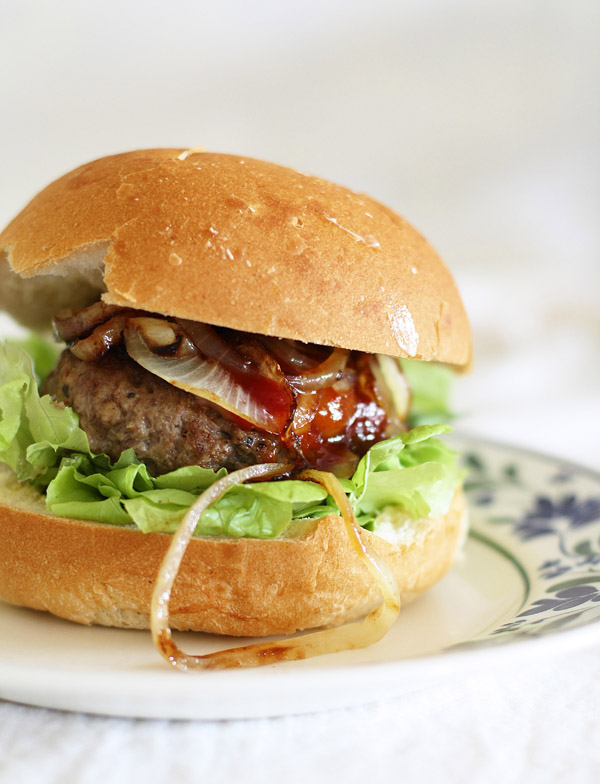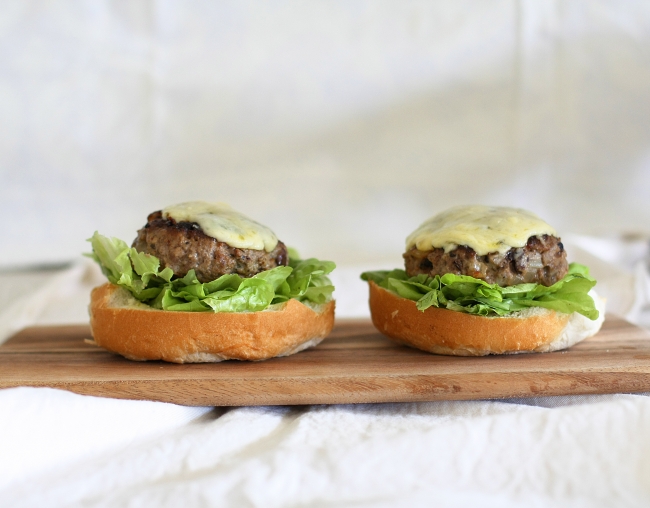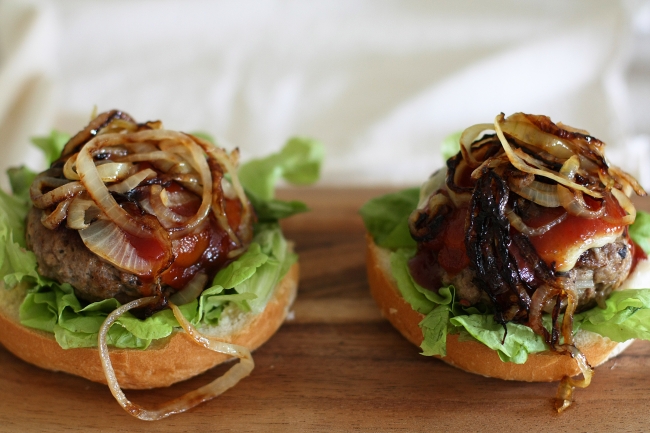 Recipe for chilli cheese burgers:
Caramelised onion:
15mls grapeseed oil
1 large onion, peeled then sliced from whole onion
1 tspn brown sugar
Rissoles:
15mls grapeseed oil
1 medium onion, diced finely
1-2 cloves garlic, crushed
Decent pinch chilli flakes (or to taste)
650g regular beef mince
15mls sweet chilli sauce
Scant 1/2 cup dried breadcrumbs
1 large egg, beaten lightly with a fork
1/4 cup finely grated Parmesan cheese
30g Kalamata olives, drained and dried well then diced finely
Freshly ground sea salt and black pepper
Handful coarsely grated cheddar cheese
4 hamburger buns, sliced and buttered
A few leaves green lettuce
Spicy tomato sauce or relish
Caramelised onion:
Add oil, onion and sugar to a small pan and caramelise on low to medium heat for 20 minutes or until golden brown, making sure to stir regularly.  Place caramelised onions on a plate, cover with foil and set aside.
Rissoles:
Add oil, onion, garlic and chilli flakes (to taste) to the same pan and sauté on low/medium heat until onion is light golden.  Set aside to cool a bit.
Place onion mixture, beef mince, chilli sauce, breadcrumbs, egg, Parmesan and olives to a large mixing bowl, season well then use your hands to mix through gently, making sure not to over-work the mixture.  Divide mixture into 4 equal parts and shape each quarter into a round rissole.  Make a shallow dimple in the centre of each rissole (this will ensure evenly shaped rissoles after cooking – see here for more info on how to make perfect burger patties).  Chill rissoles for 15 minutes or so.
Add 20ml of oil to a large frypan and heat to high heat.  Remove rissoles from the fridge, place in the pan and turn down heat to medium, making sure you can still hear sizzling.  Cook for 4 minutes on one side and 4-6 on the other, until browned and completely cooked through (this will depend on the thickness of the rissoles).  You might need to turn the heat down a bit as you go.
(Alternately you can cook them on the barbie).
Towards the end of cooking time, pile grated cheese on the top of each rissole, place under a grill on high heat for a few minutes until melted.
Place lettuce leaves on each lower bun half, followed by the rissoles, spicy tomato sauce and caramelised onions then top with the remaining bun halves.
Serves: 4