I mean I like broccoli; green, crunchy, good for you but it's not exactly the most exciting food on the planet to prepare or eat, so finding a way to dress up ye olde steamed broccoli is always good.  The classic flavours of chilli, garlic and lemon go brilliantly with this rustic vegie and I'm guessing even the most hardened of broccoli haters wouldn't mind eating it this way.  Adding a bit of Parmesan and a handful of toasted walnuts added some extra flavour and crunchiness.
This is a great side with steak, Atlantic salmon or chicken although I have to admit to eating a bowl of this on it's own for lunch.  I felt quite annoyingly smug for the rest of the day!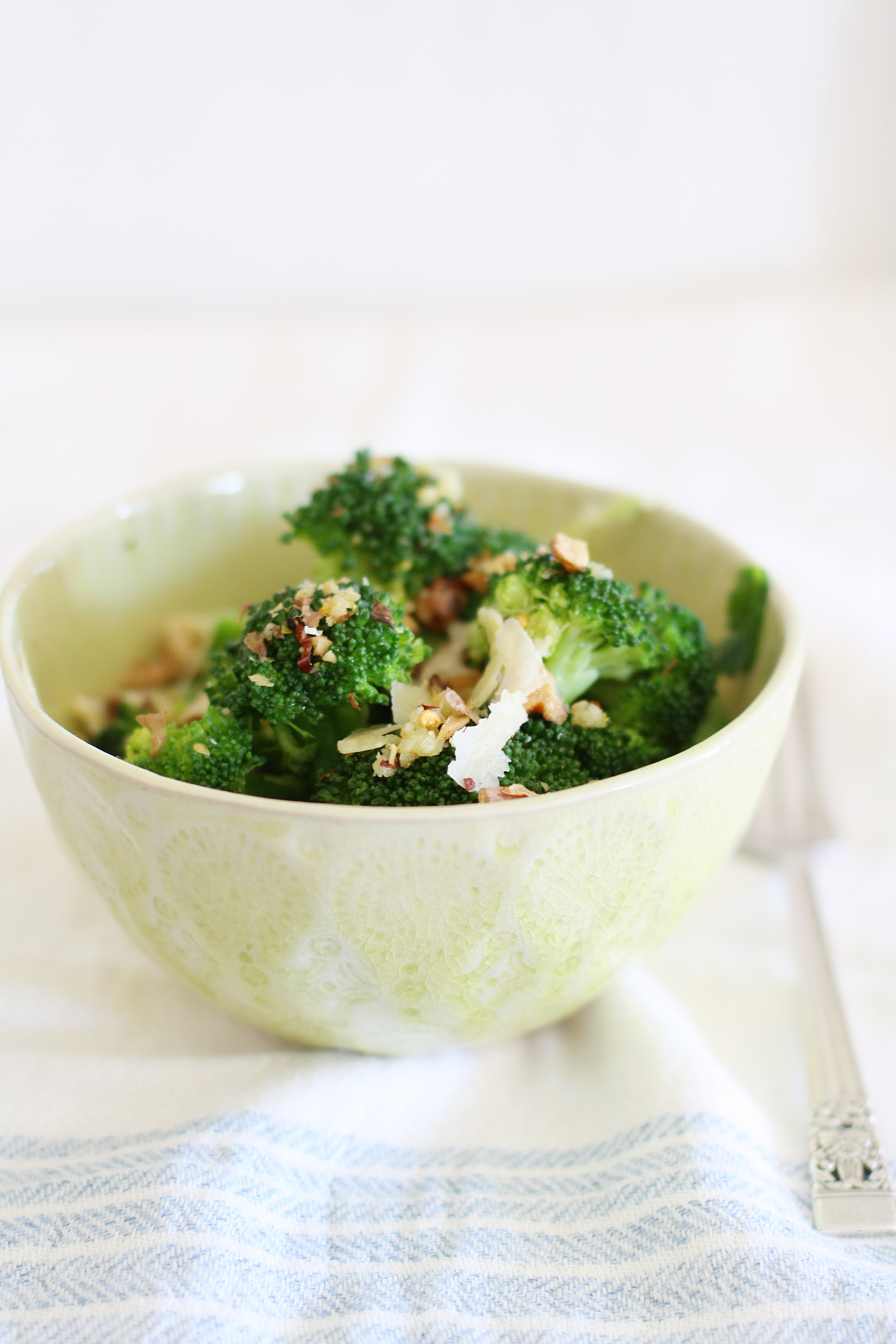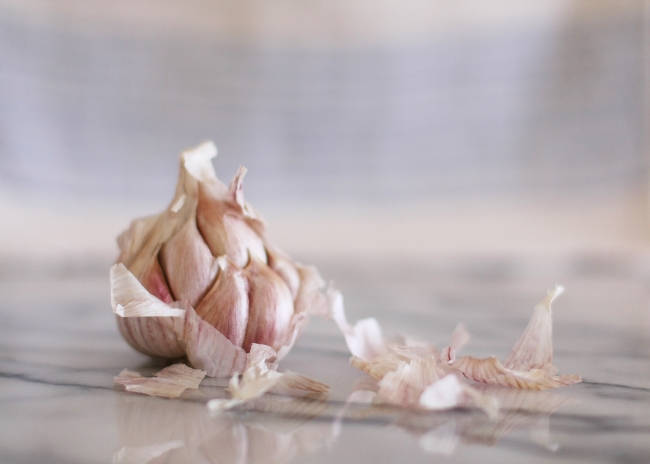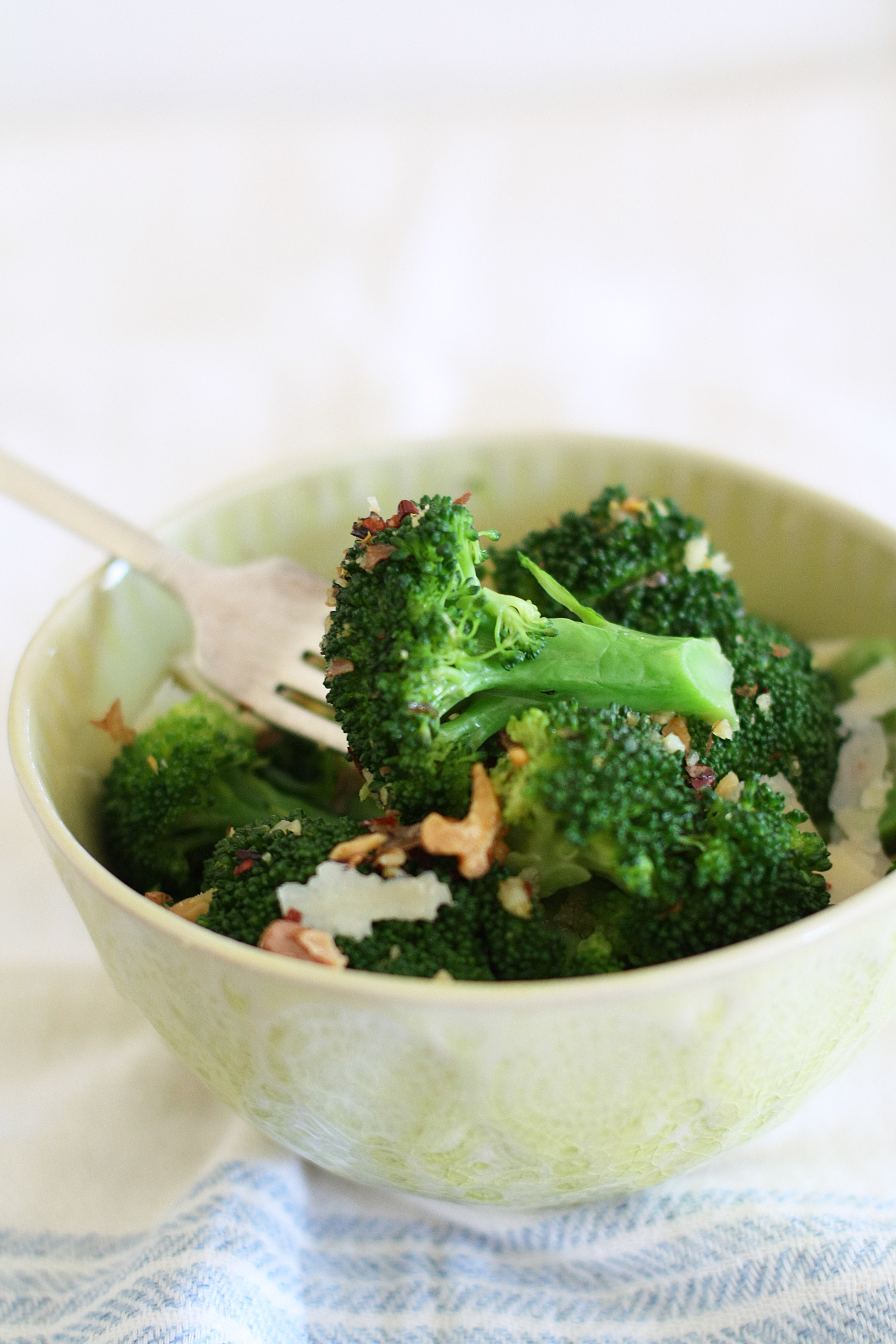 Recipe for broccoli with chilli, lemon & toasted walnuts
40g walnuts
80mls extra virgin olive oil
Decent pinch chilli flakes
2-3 cloves garlic, crushed
400g broccoli
1 heaped tspn lemon zest
Freshly ground sea salt and black pepper
50g Parmesan, shaved (optional)
Preheat oven to 180C.  Scatter walnuts over a flat baking tray lined with baking paper.  Toast for 8-10 minutes, or until fragrant and lightly browned.  Set aside to cool a bit then chop coarsely.
Chop broccoli into bite sized florets then slice the stem and steam for a few minutes, or until just tender but still bright green.
Meanwhile, add olive oil, chilli flakes and garlic to a small pan and bring to light simmer over the lowest heat, swirling the pan for 30 seconds or until fragrant (don't burn the garlic).  Set aside to infuse.
Place broccoli into bowls or on plates, season well, scatter over lemon zest, pour over infused oil and toss through gently until coated.  Scatter over walnuts and parmesan onto each serving.
Serve straight away.
Serves: 4 as a side