Dutch oven roast chicken with lemon, garlic and herbs
This method of roasting chicken changed my life.  Tender, fall-of-the-bone, fragrant and full of the good things in cooking; lemon, garlic and herbs.  No more basting, cleaning the oven or worrying about a dry roast – you simply place a quickly prepared chicken into the oven, forget about it for an hour and a half or so then take the lid off for a bit of browning.
I made a potato salad a while back which makes a nice accompaniment or you could even try some roast vegetables with rosemary.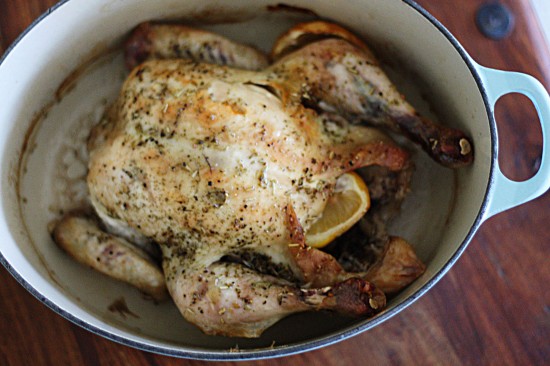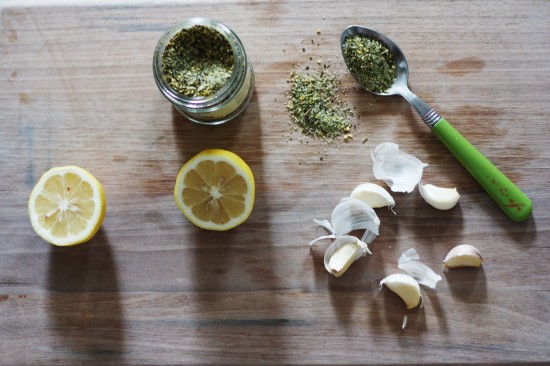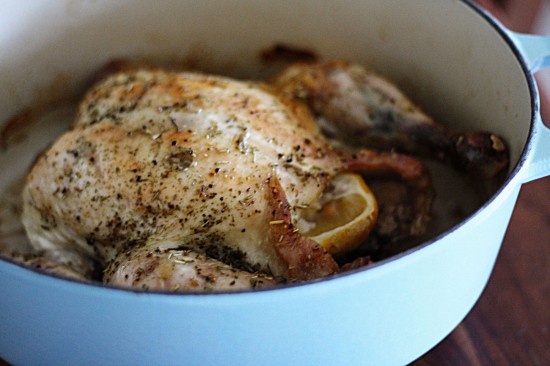 Recipe for dutch oven roast chicken with lemon and herbs:
1 whole chicken, cleaned and trimmed
1 medium lemon, halved
5 large garlic cloves, peeled and quartered
Tuscan herb seasoning (dried fennel, basil, rosemary, garlic and oregano)
Freshly ground black pepper and sea salt
Olive or grapeseed oil
Preheat oven to 180 degrees C.  Place chicken into large Dutch oven or similar cast iron casserole dish with a lid.
With small, sharp knife make a few small slices over the body and legs of the chicken.  Insert pieces of garlic in each opening.  Place 1/2 the lemon and the rest of the garlic pieces in the cavity of the chicken and the other half of the lemon into the Dutch oven.  Drizzle olive oil over chicken and sprinkle on herbs and seasoning – massage into chicken.
Roast for an hour and a half with the lid on then remove the lid, increase the temperature to 190C and roast for another 20 minutes.  This will depend on the size of the chicken obviously – As a guide, a 1.5kg whole stuffed chicken takes about 30 minutes per 500g of weight to cook in an oven preheated to 180°C (reference: taste.com.au).
Drain juices from chicken pan.  Allow to sit for 10 minutes covered with foil then serve with vegetables of your choice.