Sweet potato and black bean chilli
I realised, with only a month to go of winter, that I hadn't made a big pot of chilli yet.  I had all the ingredients for a vegetarian chilli and decided to go with sweet potato and black beans.
This is a spicy, hearty chilli with a subtle sweetness, which goes really well with brown rice and avocado.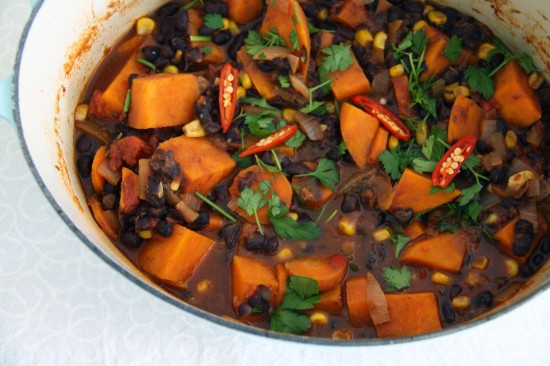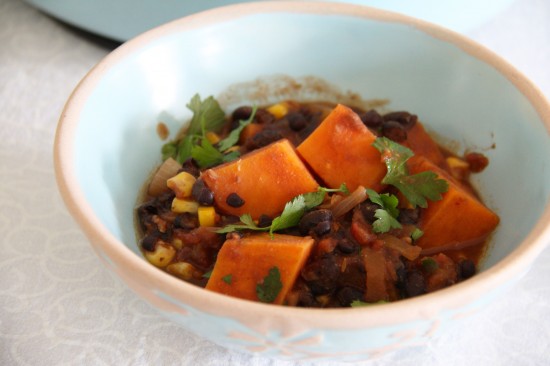 Recipe:
30ml olive or grapeseed oil
1 chilli chopped or 1 tspn chilli flakes (to taste)
2 tspn ground cumin or cumin seeds
1/2 tsp paprika
1/2 tsp garlic powder
1/2 tsp onion powder
1/4 tspn ground coriander
2 cloves garlic, crushed
1 medium sized onion, diced
2 carrots, sliced
400g sweet potatoes, peeled and diced
2 x 400g cans black beans, drained and rinsed
1 x 400g can diced tomatoes
1/2 to 1 cup vegetable stock
85g corn kernels
Seasoning
1 squeeze lime juice
Handful chopped coriander or continental parsley
On low/medium heat in Dutch oven or heavy based saucepan, saute spices, onion, garlic and carrots in olive oil until onion is transparent – season with sea salt and black pepper (being careful not to burn the garlic).  Increase heat to medium and add sweet potatoes, tossing through mixture; allow to cook briefly.
Add tomatoes and 1/2 cup of the stock, bring to the boil then simmer on low heat with lid on for 40-50 minutes until mixture has reduced and thickened and potatoes are tender.  I tend to take the lid off for the last 10-15 minutes so the mixture reduces a bit.  Add more stock if needed.  Ten minutes before end of cooking time, add beans and corn and season further if required.
Take pan off hotplate and add lime juice and parsley or coriander.  Serve with brown rice and sliced avocado.
Serves 6