A simple breakfast from here.  I didn't bother with the icing although next time I'll add some chopped toasted pecan nuts to the filling.
I have to confess I didn't make these under the best of circumstances for baking bread; cold weather, the uncooked buns stored in the fridge overnight, taking them out early in the morning and they didn't rise much in the 2-3 hours before I baked them but … they still baked beautifully.
Sweet, doughy bites with the stickiest brown sugar butter glaze on the base which I just couldn't stop picking at.  It was worth washing the very sticky pan afterwards.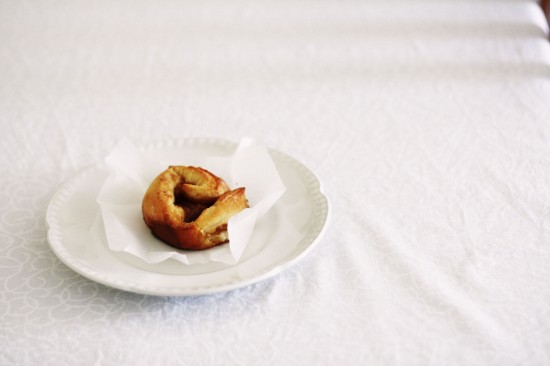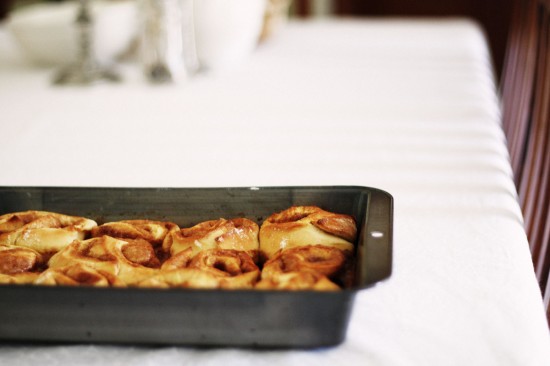 Recipe:
1 cup milk
1/4 cup unsalted butter or baking margarine, at room temperature
3 cups plain flour
1 1/2 tspns instant dried yeast
1/2 cup raw sugar
1/2 tspn salt
1 large egg
2 tspns ground cinnamon
1 cup dark brown sugar
1/4 cup butter or baking margarine, softened
60g toasted, chopped pecan nuts (optional)
Grease a 20x30cm baking pan and line with baking paper.
Warm the milk in a small saucepan over medium heat until it reaches just warm temperature, then remove from heat.  Stir in butter until melted and set aside until luke warm.
Whisk the flour, yeast, sugar and salt in a bowl.  In a large bowl, whisk the egg through the milk mixture then use a wooden spoon to stir in the flour mixture gradually, 1/2 cup at a time, beating well after each addition.  When the dough comes together in a ball, turn out onto a clean, lightly floured board and knead until smooth, elastic and dough springs back when pressed, about 10 minutes.
Roll dough into a 30x23cm rectangle.  In a small bowl, whisk together the cinnamon and brown sugar until well combined.  Using butter knife, spread roll with butter, then sprinkle over brown sugar and cinnamon mixture – also add pecan nuts here if using.  Roll up rectangle and brush sides with a little water to seal the seam.
Slice roll into 12 even pieces using a very sharp knife then place into prepared baking pan.  Cover pan with greased plastic wrap and let rise in a warm, still place until almost doubled, about 1-1 1/2 hours.
Preheat oven to 190 degrees C (180 degrees C fan forced) ten minutes before the end of rising time.  Bake rolls in preheated oven for 20 minutes or until golden brown.
However, if not baking right away, place uncooked rolls in fridge overnight covered with greased plastic wrap, then remove and sit somewhere warm and still for 1-2 hours until size has almost doubled; the time will depend on the weather.
Makes: 12 rolls
Adapted from: allrecipes.com