This versatile, spicy, rich and healthy dish is great for weekday nights in a number of ways;
with brown rice, sour cream and avocado
as a topping for baked potatoes with sour cream or Greek yoghurt
in taco shells with grated cheese
mixed with chutney and grated cheese and wrapped inside puff pastry and baked in a hot oven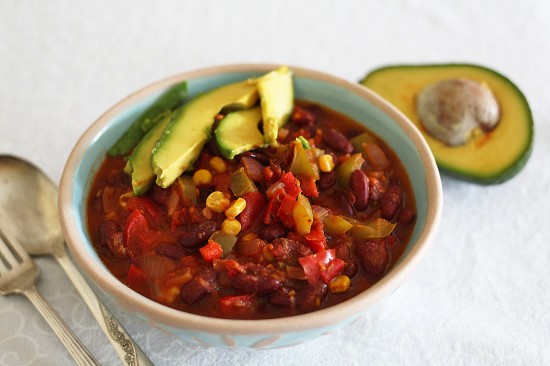 Recipe for Mexican Chilli Beans:
1 x 20ml tblspn grapeseed oil
1 medium sized red or brown onion, diced
2 cloves garlic, crushed
2 different coloured, large capsicums, diced; or
1 green capsicum and one medium carrot, diced
Freshly ground sea salt and black pepper
1/4 tspn ground coriander
1/4 tspn sweet paprika
2 tspns ground cumin or cumin seeds
Fresh chilli, diced or chilli flakes to taste (remove seeds from fresh chilli if you don't like it too hot)
1 400g tin cherry tomatoes or crushed large tomatoes or 400g fresh tomatoes, chopped
50g low sodium tomato paste
240g cooked kidney beans or a combination of kidney beans and black beans
120g sweetcorn kernels
Add oil, onion, garlic and spices to large, heavy based saucepan over medium heat.  Saute without browning for a few minutes then add diced capsicum (and carrot if using) and seasoning; place on lid then turn heat down to low/medium to sweat the vegetables for 10 minutes.
Add tinned tomatoes, tomato paste and beans – bring to the boil then lower heat to medium and simmer for 15 minutes.  Take lid off or put to the side, add corn kernels and continue simmering for 5-10 minutes to reduce liquid and until mixture has thickened.  Add more seasoning if needed.
Serves: 4 main servings
Note: freezes well