Amatrice, a beautiful little gothic town in Italy, was devastated by an earthquake recently.  This made me desperately sad to read (how does a whole town disappear, a town which has been around for hundreds of years?) so I thought I'd make their national dish today which just happens to be one of the most delicious pasta recipes I've ever made.
This is what pasta should be like – simple, rustic yet full of flavour.
My heart goes out to this town and all it's residents as well as the surrounding areas affected.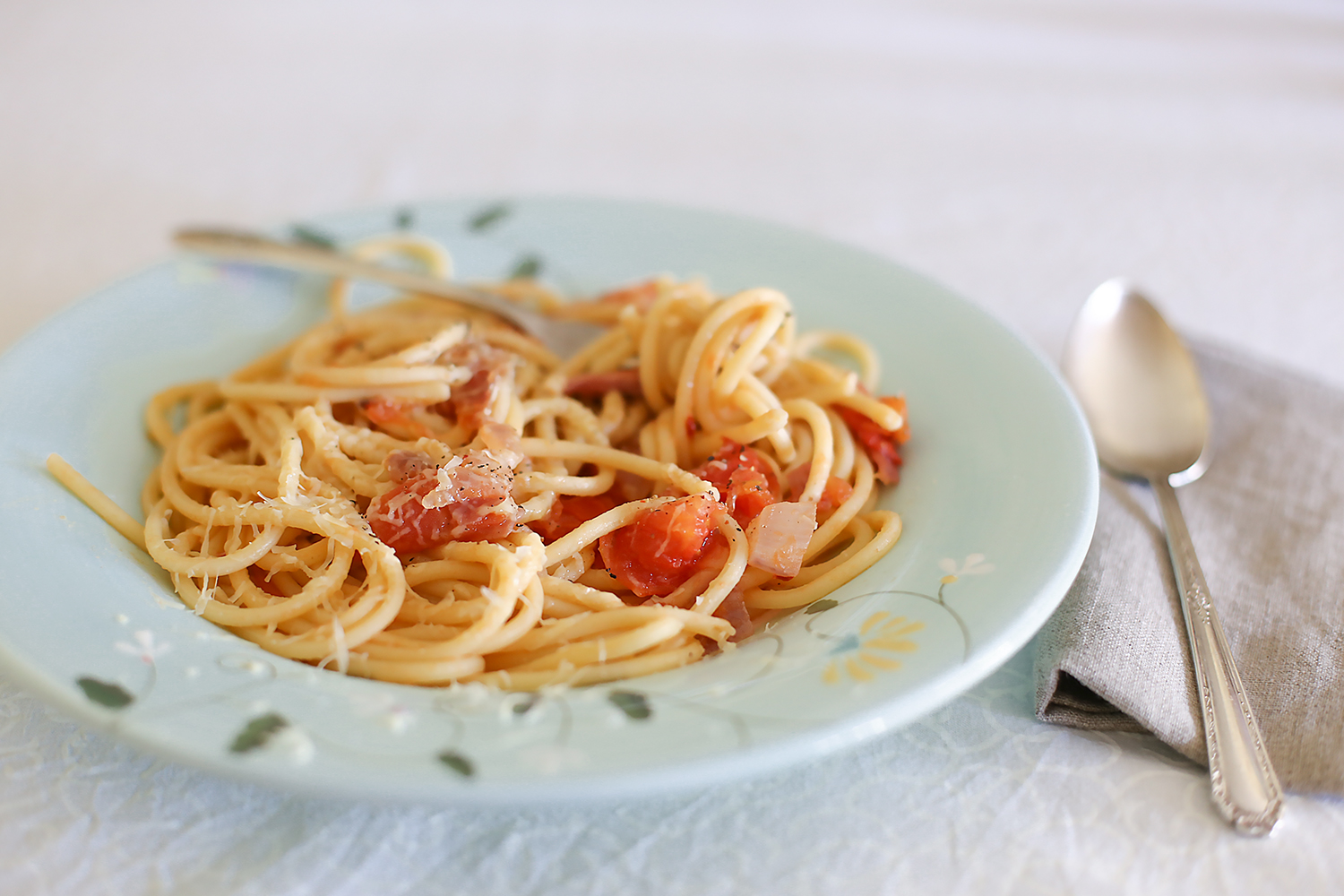 Recipe for Bucatini all'amatriciana
200g bucatini (hollow spaghetti)
2 x 15ml tblspns extra virgin olive oil
Pinch chilli flakes
1-2 cloves garlic, crushed
100g prosciutto, chopped roughly (or alternately use the traditional guanciale, however the original recipe states 130g/4 servings)
Splash good white wine
4 vine ripened tomatoes or 1 tin cherry tomatoes
Freshly ground sea salt & black pepper
Pecorino cheese
Halve tomatoes and squeeze out most of the liquid then slice each half into quarters.
Add oil, chilli, onion, garlic and prosciutto to a large saucepan and sauté for 5 minutes or so until onion is softened; add a splash of white wine and the tomatoes, then simmer on medium heat, stirring regularly, for 10 minutes, or until tomato has broken down a bit and it becomes a rustic sauce.  Add seasoning to taste.
Meanwhile, add bucatini to another large saucepan with salted, boiling water and cook until al dente, around 10-11 minutes.
Drain pasta then add to tomato mixture and stir through.
Divide between 2 bowls and finely grate over pecorino generously.
Serves: 2
Adapted from: SBS Food