So I made this epic sanga this morning – so good!  If you're not into bacon, just leave it out because I guarantee it'll be just as awesome.  And I know it just looks like an innocent bacon, avo and egg sandwich however the egg is a type of omelet folded over melty cheese so that makes it really special, especially stuffed into a soft brioche bun.
Make it!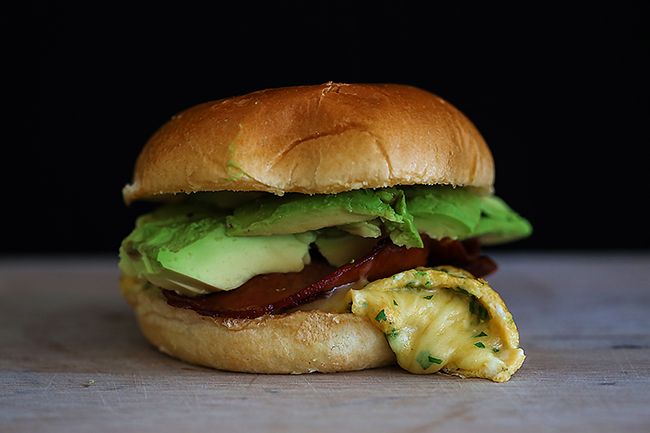 Recipe for breakfast sandwich:
4-5 slices (125g pack) middle eye bacon, leave untrimmed
2 large eggs
A tablespoon of finely chopped flat leaf parsley & green part of 1 spring onion
Freshly ground sea salt & black pepper
2 tspns butter or margarine
20g mozzarella cheese + 20g parmesan cheese, grated, combined
2 brioche buns
1 avocado, sliced
Preheat oven to 180c.  Place a sheet of baking paper onto a flat baking tray.  Layer bacon onto tray.  Bake for 25 minutes, or until golden and crispy around the edges then turn over for another 5-10 minutes until golden brown all over.
Meanwhile, whisk eggs with herbs and seasoning.  Around 10 minutes before bacon is cooked, add butter to a 20cm non-stick frypan (18cm base) and swirl over high heat.  Pour in egg and swirl around occasionally – you may need to turn the pan down a bit.  Once the sides are firm, use a spatula or egg flip to run around the edges carefully.  When egg is bubbling in the middle and almost cooked, scatter over the cheeses.  Use a spatula or egg flip to move the sides of the omelet towards the middle into a sort of square; turn off the pan and allow to sit on the hotplate to allow the cheese to melt a bit.
Take the bacon from the oven and move to the side and rub the inside of each bun half in the bacon fat (yum!).  Slice the omelet in half and apply each half to the lower half of the bun, add the bacon then avocado – grind a generous amount of black pepper over.
Eat!
Adapted from: I am a food blog and smitten kitchen