So I made this lovely lemon blackberry cake the other day.  To avoid using an electric mixer and too much washing up, I used oil instead of butter and just whipped it up by hand.  So easy and I loved using the blackberries I froze from summer.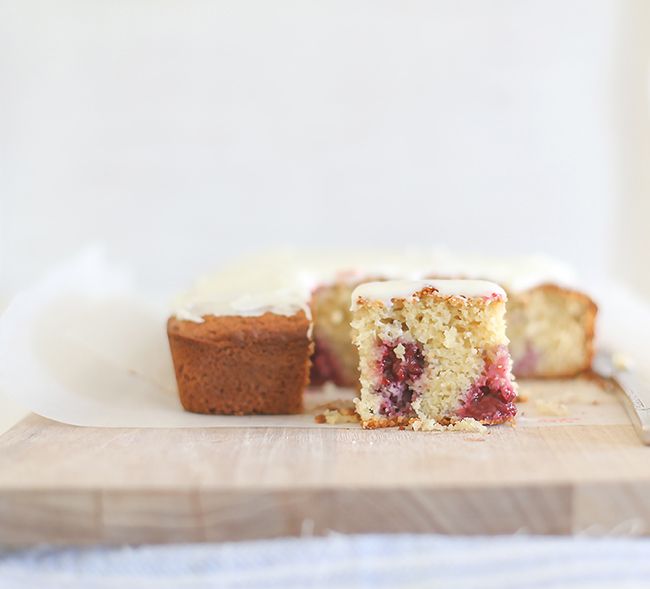 Recipe for lemon blackberry cake:
1 3/4 cups white plain flour
1 1/2 tspns baking powder
1/2 tspn bicarbonate of soda
3/4 cup raw caster sugar
Grinding of sea salt
200g blackberries
1/2 cup extra light olive oil
1 tspn lemon extract
Lemon zest from 2 lemons
2 large eggs, at room temperature
1 cup Greek yoghurt
Lemon icing:
1 1/2 cups icing sugar
25g unsalted butter, softened at room temperature
60mls lemon juice
Preheat oven to 180C.  Grease a 20cm square tin and line base with baking paper, leaving some over the sides.
Add oil, extract, zest, eggs and yoghurt to a jug and whisk until combined and creamy.  Sift flour and baking powder into a large mixing bowl.  Whisk through sugar and salt then toss through berries.
Add wet ingredients to the dry and fold through gently until just combined (don't over-beat).  Pour into prepared tin and smooth base with a butter knife.
Bake for 40-45 minutes, checking after 40 minutes.  Loaf is cooked when a skewer inserted into the middle comes out clean and top is browned.  Allow to sit in tin for 8 minutes then remove onto cooling rack to cool completely before icing.
Icing:
Sift icing sugar into a mixing bowl and add remainder of the ingredients, briskly stirring with a wooden spoon until smooth and thick.  Ice cooled cake.
Serves: 10