This is a super easy, fast and delicious recipe for fried rice using a few tinned and frozen things. I love it because I usually have most of the ingredients around and can just throw it together.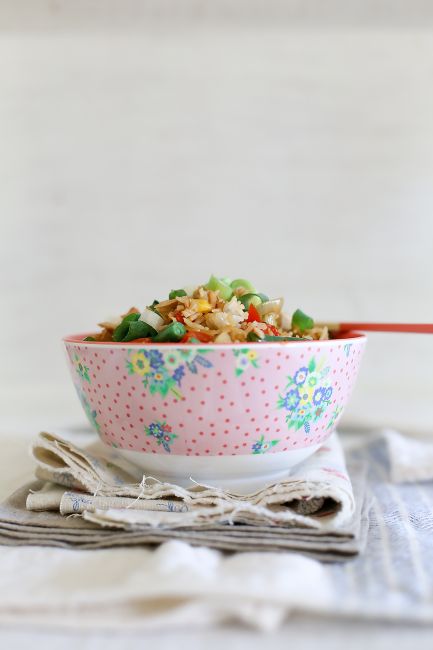 Recipe for easy spicy tuna & vegetable fried rice:
40mls reduced sodium tamari sauce
40mls kecap manis (sweet soy sauce)
Freshly squeezed juice from 1/2 a lime (around 20mls)
50mls peanut oil
1 onion, sliced
3 cloves garlic, crushed
2 tspns fresh ginger, grated
1 small red chilli, sliced (or decent pinch chilli flakes)
1 large red capsicum, diced
200g green beans, topped & tailed then sliced
Freshly ground sea salt & black pepper
3 x 125g tins smoked tuna slices, drained & flaked
100g frozen green peas
80g frozen corn kernels
Mirin
4 cups cooked, cold basmati rice (preferably cooked by absorption the day before, but up to you)
3 spring onions, white & green parts sliced thinly
60g raw cashews (optional)
Tamari sauce or kecap manis, for serving
Add tamari sauce, kecap manis and lime juice to a small vessel and whisk to combine.
Add oil, onion, garlic, ginger & chilli to a large stainless steel frying pan or wok over medium heat, stirring regularly until onion has softened and caramelised.  Increase heat to high then add in capsicum and green beans and stir fry for a couple of minutes until just tender but still brightly coloured.  Season well.
Add a splash of Mirin to lift up the bits from the base of the pan, then add in the flaked tuna, peas and corn, stirring through for a minute or so.  Place in rice, breaking up clumps with the spoon, then the sauces and most of the spring onions.  Sauté over high heat stirring and tossing through ingredients until hot.  Season further to taste.
Serve straight away with extra tamari or sweet soy sauce and the remainder of the spring onions scattered over the top.  Scatter cashew nuts over each serving if you like.
Serves: 4