Inspired by this lovely idea the other day, I thought I'd whip up some home-made chocolate hearts to serve with an old recipe for chocolate mousse pie.  You can stick whatever you like onto the hearts and they're super easy, yet make chocolate desserts and cakes looks so cute.
And although I don't feel so creative lately with recipes and such, I couldn't let Valentines go by without making something.  Particularly something so rich, decadent and full of cream.
I hope everyone has a great day with someone cuddly to spend it with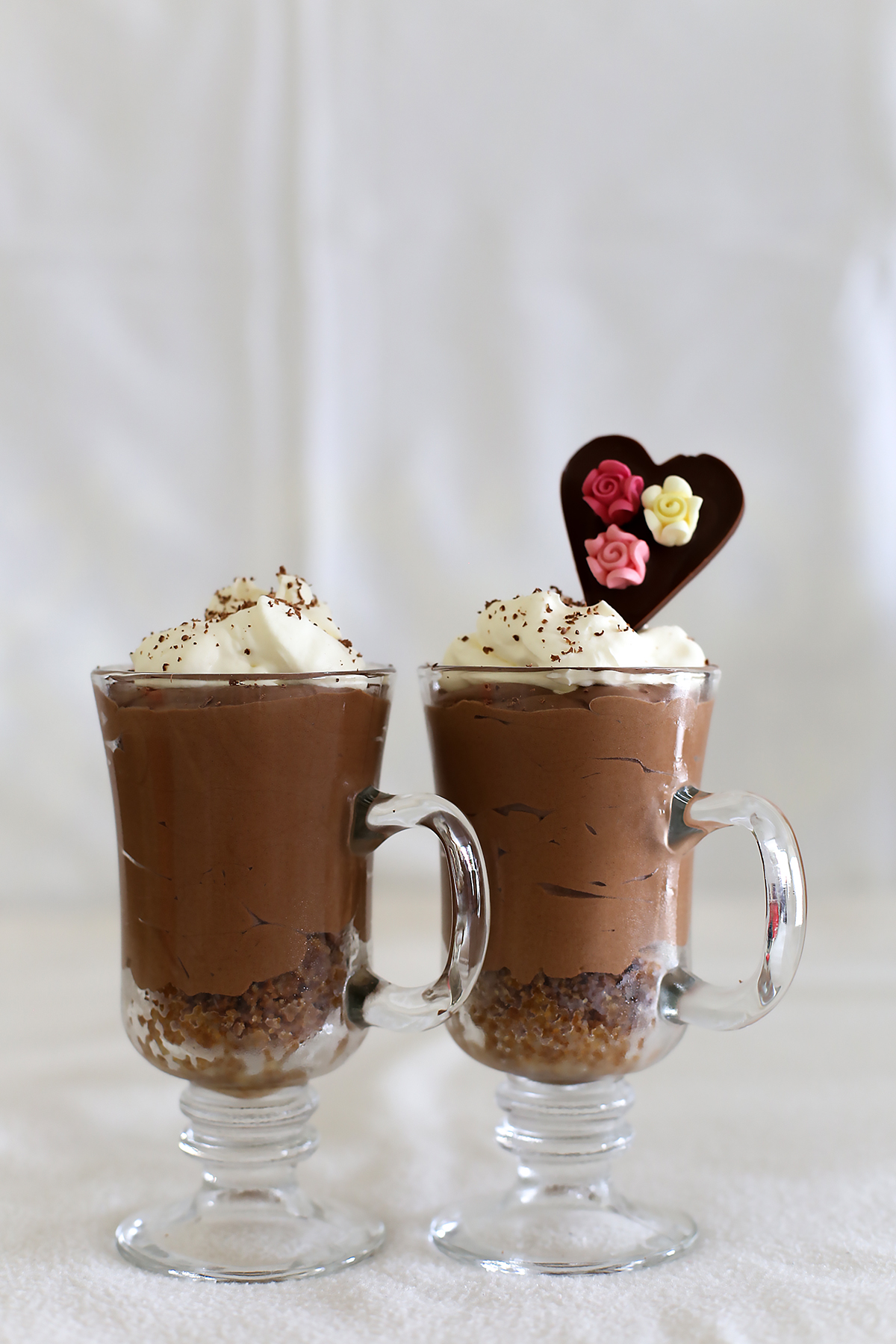 Recipe for chocolate mousse pie:
100g butternut snap biscuits (or plain sweet biscuits of your choice)
40g unsalted butter, melted
160g sweetened dark chocolate, broken up
1/3 cup milk
1 tspn vanilla concentrated extract
2 x 15ml tblspns flavoured Bailey's Irish Cream (shake bottle first)
300ml carton whipping cream, straight from the fridge
Chocolate shavings for sprinkling
Chocolate toppers:
Sweetened dark chocolate, broken up
Heart shaped cookie cutters
Cake decorations (flowers, hearts, whatever you like)
Toppers:
Find a flat baking pan and line with baking paper.  Place over cookie cutters. Place chocolate into a heat-proof bowl over a pan of gently simmering water, stirring, until melted.  Set aside to cool for a bit.
Pour chocolate carefully into the cookie cutters until the whole heart shape is covered, holding down each cutter for 10 seconds so the chocolate doesn't seep out from underneath.  Keep a bit of melted chocolate aside.
Press decorations into the hearts then store in the freezer until hardened.  Remove the cutters carefully from the hearts using a butter knife, then add a blob of melted chocolate to the end of each heart (this helps when inserting them into the mousse).  Store in the freezer until hardened and ready to use.
Mousse:
Find 3 medium or 4 small sized ramekins/dessert glasses.  Grease the base and up the sides a bit with butter.
Grind biscuits in food processor until fine in texture (or place biscuits into 2 freezer bags and use a rolling pin to alternately roll/bash until ground down).  Add to bowl with melted butter and mix until it resembles damp sand.  Evenly pile into the glasses and use the end of a rolling pin to press crumb mixture into the base of the ramekins and up the sides a bit.  Chill in the fridge while making the filling.
Melt chocolate in a heat-proof bowl over a small saucepan of gently simmering water, on low heat; stir until melted.  Remove pan from the heat.
Heat milk in a microwave proof vessel in the microwave until just at boiling point.  Pour into the melted chocolate with the vanilla and Baileys cream and whisk briskly until combined and smooth.  Set aside to cool.
Meanwhile, whip chilled cream until fairly stiff using a hand whisk (or electric beater if you prefer).  Whisk 3/4 of the cream into cooled chocolate mixture quite briskly for a couple of minutes until thickened and smooth.  Pour evenly into the dishes on top of the crumb base and spoon remainder of the whipped cream over the top of the mousse.
Chill covered for an hour or two, or until set.  Serve with chocolate sprinkles and toppers.
Serves: 3 large, 4 small
Chocolate mousse recipe is my own
Toppers inspired by: jacquelyn clark