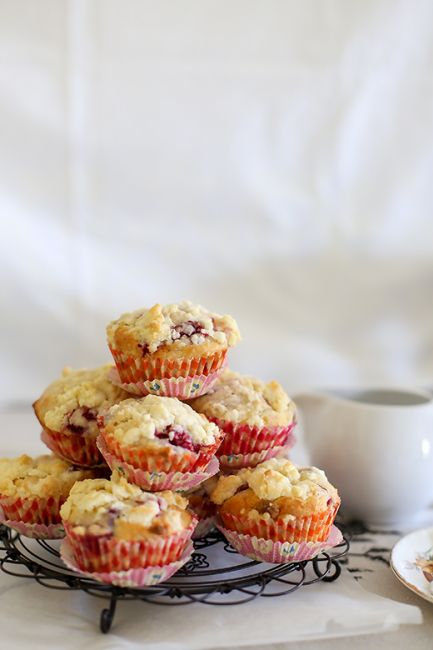 These are some cute muffins I baked the other day.  They're lovely and great to freeze for heating up later.
I'll be back with another recipe post when the weather's a bit cooler and I feel like baking again

Recipe for raspberry, white chocolate, coconut & streusel muffins:
2 large eggs
1 tspn vanilla concentrated extract
1 cup buttermilk
1/2 cup oil
1 3/4 cups plain flour
2 tspns baking powder
1/4 cup desiccated coconut
3/4 cup raw caster sugar
160g raspberries
80g white chocolate pieces
Streusel topping:
1/4 cup plain flour
1/4 cup raw sugar
40g chilled unsalted butter, cubed
Make sure cold ingredients are at room temperature.
Preheat oven to 180C.  Place muffin or cupcake liners into 12 cup standard muffin tin.
Streusel topping:
Stir plain flour and sugar then rub through butter using fingertips until mixture resembles coarse crumbs.  Place in the fridge to chill.
Muffins:
In a medium sized jug, add eggs, vanilla, buttermilk and oil, whisking until combined and creamy.
Sift flour and baking powder into a large bowl and add coconut and sugar, whisking to combine.  Toss through raspberries and white chocolate.
Pour wet ingredients into dry ingredients and use wooden spoon to stir until just combined, making sure not to overbeat.  Spoon muffin mixture into prepared muffin tins evenly.  Place small clumps of streusel mixture over the top of each muffin.
Bake for 25-30 minutes, or until golden brown on top and tops spring back when pressed gently (I turn mine around after 15 minutes or so).  Allow to cool in tin for 5 minutes then remove onto cooling rack to cool.
Dust with icing sugar then serve warm or at room temperature.
Serves: 12