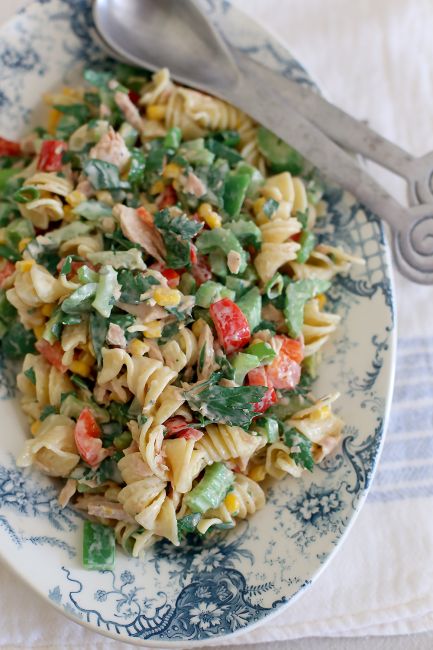 Normally my salads are low carb affairs but I do enjoy a sort of retro pasta one.  And I really liked this – I mean I love pasta so no surprise there, but the dressing is one of the best things about this – creamy with a hint of lemon, it goes perfectly with the tuna, comforting pasta and crunchy vegies.  It can be stored in the fridge for a day or two for workday lunches and whatnot.
For a vegetarian version, just leave out the tuna and add some flaked almonds or chopped walnuts.
Recipe for tuna pasta salad:
220g dried curly pasta
Dressing:
1 lemon, zested finely
15mls lemon juice
20mls extra virgin olive oil
1 tspn honey
2 tspns Dijon mustard
1 clove garlic, crushed
2 heaped 20ml tblspns (50g) good mayonnaise (a non sweet kind – I prefer Thomy)
2 heaped 20ml tblspns (50g) full fat Greek yoghurt
Freshly ground sea salt & black pepper
2 x 125g tins smoked tuna slices in olive oil (or any tuna you prefer); OR 60g flaked almonds or chopped walnuts for a vegie version
1 medium red capsicum, diced finely
1 medium green capsicum, diced finely
1 large stalk celery, thinly sliced
80g sweet corn kernels, fresh or frozen
Handful flat leaf parsley, chopped finely
4 spring onions, green parts only, sliced finely
Freshly ground sea salt & black pepper
Drain the tins of tuna, leaving a bit of oil behind.
Add pasta to large pot of boiling, salted water and cook until al dente, around 10-11 minutes; about 20 seconds before you take the pasta off the hotplate, add in the corn kernels.  Drain really well and add to a large salad bowl.
While the pasta is draining, add the dressing ingredients to a bowl and whisk until combined and creamy.
Add the remainder of the ingredients to the pasta, flaking the tuna and including the oil, then the dressing, further seasoning to taste.  Stir gently until combined.
Best served straight away or after storing in the fridge, sat at room temperature for a  bit or placed in the microwave on low heat for 30-60 seconds (if it's too cold, the flavours don't come through).
Serves: 4