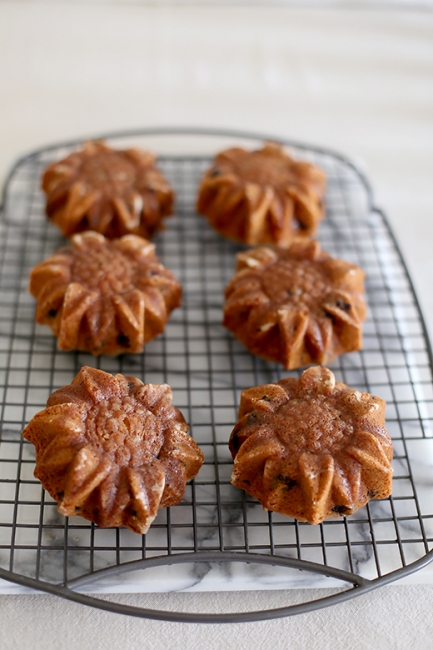 Has anyone else ever done this?!  Found a mysterious item in your kitchen?  I found a fancy mini Bundt tin in my cupboard shaped like sunflowers which I've never used (we live in a flat and while there's a decent amount of kitchen cupboard space, some things are hard to get to, being up high or right at the back and so forth and I tend to forget about them).
So anyway, I thought I'd give this tin a try finally, to bake some cute little cakes.  Obviously most people wouldn't have one of these particular cake tins, so you can use a basic muffin tin for this recipe and they'll turn out just as nice.  Although, it was fun turning these baby Bundt cakes out and seeing the sunflower pattern on top.  They were super fluffy with a lovely brown crust and they look so pretty!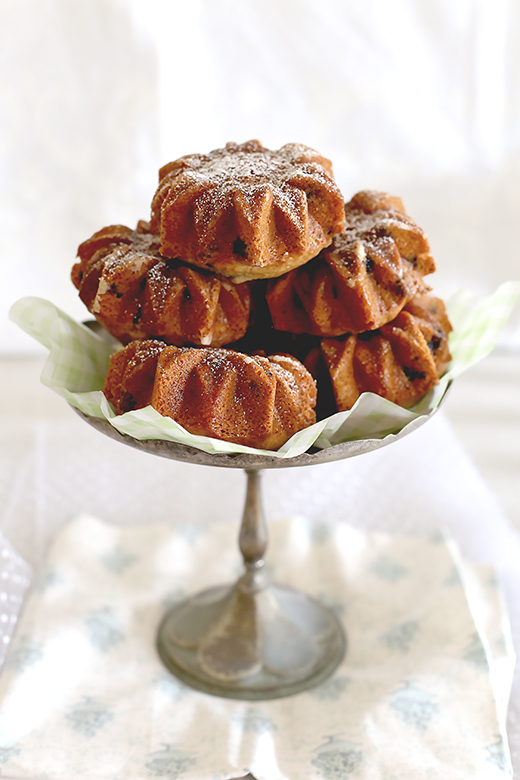 Recipe for berry coconut mini Bundt cakes:
1 3/4 cups plain flour
1 1/2 tspns baking powder
1/4 tspn bicarbonate of soda
Small pinch salt
1/4 cup desiccated coconut
1 1/2 cups (175g) berries, fresh or frozen
1/2 cup full fat Greek yoghurt or sour cream
1 cup raw caster sugar
2 large eggs
1 tspn vanilla concentrated extract
1 tspn coconut essence
1/2 cup oil
Vanilla syrup:
1/3 cup raw sugar
1/3 cup water
1 tspn vanilla bean paste
Icing sugar, to serve if you like
I used a Nordic Ware sunflower mould tin.  Preheat oven to 180 C.  Line 12 cup muffin tin with cupcake wrappers, or, if you have a fancy mould tin, brush oil or melted butter around each mould, dust with plain flour and, over a sink, turn tin upside down and tap to get rid of excess flour.
Sift flour into a large mixing bowl; whisk in the salt and coconut.  Toss berries through the dry mixture.
In a jug, whisk the yogurt, sugar, eggs, vanilla extract and oil until well combined.  Make a well in the dry ingredients, pour in the wet ingredients and fold gently until just combined (don't over-beat).  Spoon batter into the prepared cake tins.
Bake for 20-25 minutes (depending on the size of the tins you use), or until tops of cakes are light golden and spring back when pressed
Remove the cakes from the oven and allow to cool in the pan for 10 minutes before turning out onto a cooling rack, then place cooling rack over a shallow baking pan.  While cakes are cooling in tin, make the syrup:
In a small pan over low/medium heat, heat ingredients, stirring, until sugar dissolves completely.  While the cakes are still warm, spoon the vanilla syrup evenly over each cake.
Serve cakes warm or at room temperature with a dusting of icing sugar if you like.
Serves: 6 cakes (or 12 regular sized muffins)
Note: for specific use of Nordic Ware tins