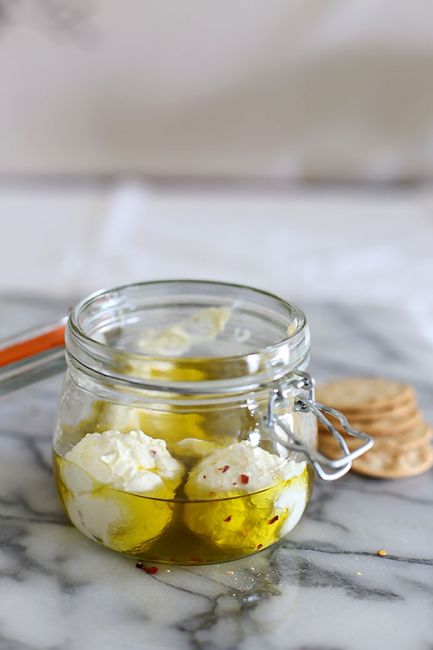 As mentioned in an earlier post, I made some labneh!
It's very easy and sort of exciting seeing how it firms up.  I added a heap of chilli flakes and some honey which made it subtly sweet with a nice bite and it's creamy texture is perfect on crackers as a snack with some wine or with bread for a quick lunch.  Traditionally, it's made plain or with herbs.
This recipe makes a lot; I had no idea so used a ton of yoghurt and we were eating labneh for days.  The amounts are easily halved and will keep for about a week in the fridge.
Oh and, just for interest's sake, I worked out the cost (using extra virgin olive oil because that's all I had):
Store bought 200g tub of labna – $8.50
Home-made 600g – $10 ($3.30/200g)
= a saving of around $5.20 per 200g.
Win!!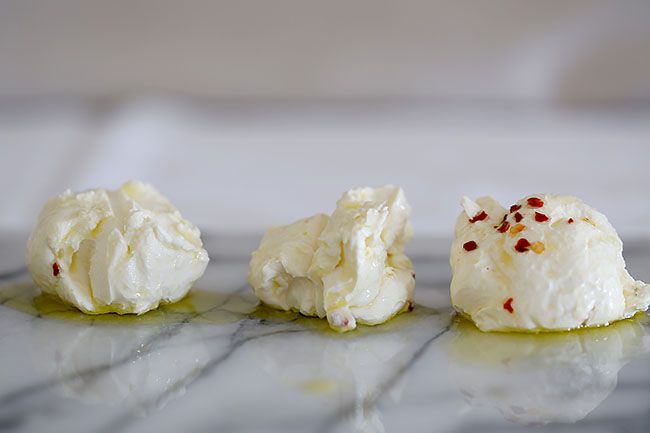 Recipe for sweet chilli labneh (or labna):
1kg Greek or Greek style yogurt
1/2 tspn fine sea salt
1 decent pinch chilli flakes (optional)
2 x 20ml tblspns good honey (optional)
Olive oil
Add all the ingredients except the oil to a large bowl and stir until combined (if you prefer you can.  Place a large, clean square of muslin or a Chux over a fine strainer, then place that over a large glass or ceramic bowl; pour in the yoghurt mixture.  Fold the Chux or muslin over the labna.
Cover with plastic wrap and allow to drain/set for 18-24 hours in the fridge (the longer, the better).  Once set, velvety and creamy, remove labna from the sieve and discard the liquid.  Roll into the size balls that you wish; store in airtight jars covered with olive oil and some chilli flakes scattered over.
Will keep for up to a week stored in the fridge.
Try labneh in these delicious ways:
as a dip for crackers or bread
on toasted rustic bread with smoked salmon & capers or roast cherry tomatoes & basil
as a dip with raw carrot & celery sticks
torn off in pieces to toss through salads or pasta
The oil can be used to drizzle over open-faced sandwiches or in salad dressings.
Makes: 600g (enough for 8-10 servings)
Adapted from: The Cook and the Chef