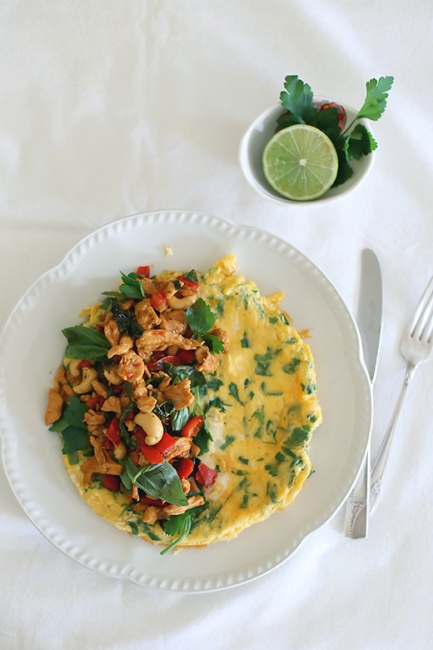 I love a good curry!  Especially with chicken and cashews.
So this is an easy, delicious dish I made recently with stir fried, spicy chicken, basil and cashews but in an omelet; much lower in carbs than a rice dish and with spicy, delicious flavours.  You can whip this one up in 20 minutes or so for a fast and healthy lunch.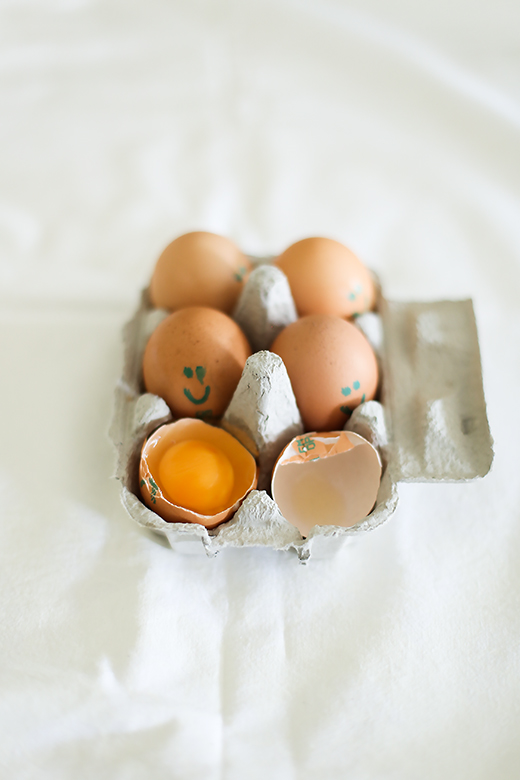 Recipe for stir fried chilli basil chicken & cashew omelet:
Chilli basil chicken:
1 x 20ml tblspn oil
1 large red chilli, diced
Pinch chilli flakes if you prefer it a bit spicier
3 spring onions, white & green parts, sliced
1 medium red capsicum, diced
1 large clove garlic, crushed
2cm piece of fresh ginger, peeled & grated finely
200g skinless chicken breast, sliced thinly
2 x 15ml tblspns sweet soy sauce (Kecap Manis)
Squeeze of 1/2 lime
2 tspns Mirin
25g raw whole cashews
Small handful basil leaves + extra
A couple of sprigs of continental parsley, chopped
Freshly ground sea salt & black pepper
Omelet:
Butter
5 large eggs
Handful continental parsley, chopped
1 spring onion (green part), sliced
Find one medium stainless frypan and a medium sized, non-stick frypan (around 17-18cm across the base).
In the stainless steel frypan, add the oil, chilli, chilli flakes (if using), spring onion, capsicum, garlic and ginger and sauté on medium heat, stirring occasionally, until lightly caramelised.  Turn up heat to high and add in chicken pieces and stir fry until golden brown.  Add in seasoning, soy sauce, lime juice, Mirin and cashews and stir through then lower heat to medium heat and continue simmering while you cook the omelet, until liquid reduces a bit.
In the non-stick frypan, add a small tablespoon of butter and bring to medium high heat.  Preheat grill to medium/high (after removing the grill part of the grill plate).
While hotplate is heating up, whisk eggs, parsley and sliced green onions in a jug with a decent amount of seasoning and a splash of cold water, until just combined.  Pour eggs into frypan and use a wooden spoon to make swirls across the surface of the omelet until you can see cooked bits of egg throughout.  Allow omelet to continue cooking for a minute or so, then place under grill so the surface is just cooked and lightly puffed up.
Stir basil leaves and parsley through chicken, remove omelet from under the grill and spoon over 2/3 of the chicken and cashews onto one half of the omelet.  Flip over the other half of the omelet, slice in half and serve onto plates with extra basil.  Serve the remainder of the chicken on the side of each serving.
Serves: 2