I love a good coleslaw and I'm always always looking for ways to use red cabbage (if I have to sauté cabbage in butter one more time ..).
So I found Nigella's New Orleans coleslaw recipe in one of my many cookbooks recently and remembered how delicious it looked when I spotted it ages ago.  Well it tastes even better!  It's so good with spicy chicken pieces stuffed into some toasted Turkish bread and pretty healthy too.
This isn't the candy sweet, thickly coated slaw of yore, you can taste the crunchy vegies and nuts and the lovely dressing is full of garlicky, sweet/savoury flavour, but isn't overpowering.  This is definitely a keeper as we've made it countless times over winter; it keeps well in the fridge for a day or two and goes well with so many things.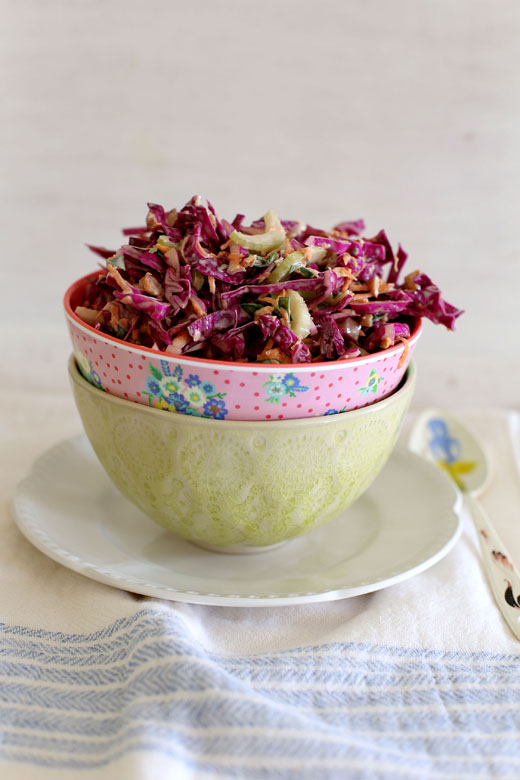 Recipe for Nigella's New Orleans Coleslaw:
Dressing:
1/3 cup good mayonnaise (the non sweet kind – I use Thomy)
2 heaped tblspns Greek yoghurt (about 50g)
1 x 15ml tblspn maple syrup
2 tspns apple cider vinegar
1 garlic clove, crushed
Freshly ground sea salt & black pepper
350g red cabbage, thinly sliced or shredded
2 sticks celery, halved lengthways & thinly sliced
2 medium carrots, grated coarsely
3-4 spring onions, green parts only, thinly sliced
60g raw pecans, toasted & chopped
Crunchy fried noodles (optional)
Whisk together the dressing ingredients in a jug or bowl until smooth and creamy.
Add vegetables and nuts to a bowl and toss through with the dressing and further seasoning to taste.
This can be kept for up to 24 hours covered and chilled in the fridge.  It's suited as a side or addition to chicken, salmon, vegie & beef burgers and sandwiches.
Optional: Just before serving, stir through a handful of fried noodles for extra crunch.
Serves: 4
Adapted from: Nigella Express
Note: I hand sliced my cabbage and liked the rustic texture, however if you prefer your cabbage sliced really finely, use a mandoline on your desired setting.  Just be aware that the finer the coleslaw, the more the dressing will settle at the base of the bowl, so it will need regular stirring.