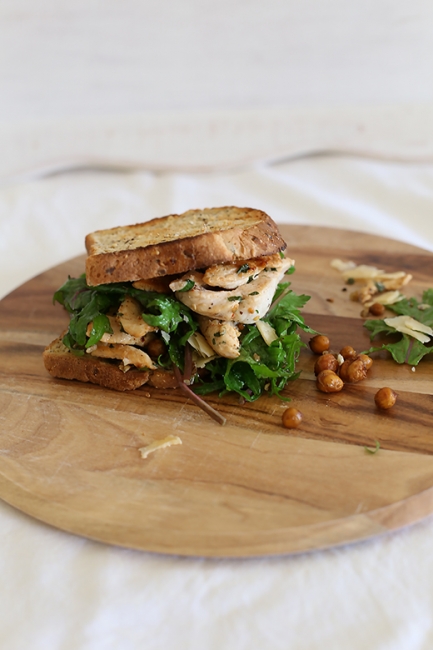 I love me a chicken salad, it's the one thing I make or order from cafes quite regularly.
This one is a little different though; spicy roast chickpeas give the salad a lovely crunch and flavour.  The crisp salad, herbs, flavoursome chicken pieces with a bit of parmesan made this a lovely lunch last week.  I stuffed some of my salad between 2 toasted pieces of buttered seed and oat bread and it was delicious.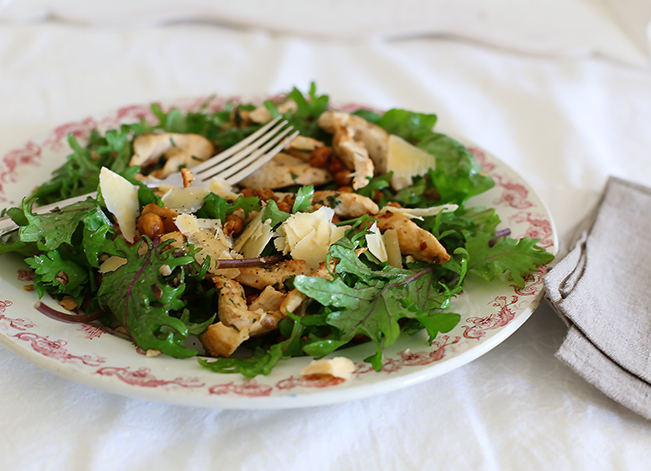 Recipe for spicy chickpea, chicken & baby kale salad:
Spicy chickpeas:
1 x 400g tin chickpeas, rinsed and drained well
1 x 20ml tblspn oil
1 pinch chilli flakes
1/2 tspn brown sugar
1/2 tspn ground cumin
1/2 tspn dried thyme
1/4 tspn sweet paprika
Freshly ground sea salt & black pepper
Salad:
120g baby kale
Handful basil leaves
Handful flat leaf parsley leaves
Dressing:
2 x 20ml tblspns macadamia nut or extra virgin olive oil
1 x 20ml tblspn apple cider vinegar
1 tspn Dijon mustard
1 scant tspn raw caster sugar
Spicy chicken:
500g chicken breast, skin & bone removed
1 x 20ml tblspn oil
Pinch chilli flakes
2 tspns lemon juice
1 large clove garlic, crushed
1 heaped tblspn flat leaf parsley, chopped finely
Freshly ground sea salt & black pepper
60g walnuts, chopped quite finely
30g shaved Parmesan
Toasted grainy bread or rolls
Preheat oven to 200C.  Find a flat baking tray and line with baking paper.
Pat chickpeas until dry with paper towel and scatter over baking tray.  Drizzle over oil, add spices and seasoning and rub into chickpeas (I use kitchen gloves for this), moving them out into a flat layer.  Roast for 35 minutes, or until golden brown, turning tray around half-way through.  Set aside.
Trim chicken breast and slice into thin, bite-sized pieces.  Place into a glass, ceramic or metal mixing bowl and drizzle over oil then add the remainder of the ingredients.  Stir through until coated.  If you have time, marinate in the fridge for an hour or so.  I do this while the chickpeas are cooking.
Preheat a large fry-pan over medium/high heat (I used a stainless steel pan so the chicken would brown).  Sauté chicken in 2 batches, stirring regularly until golden brown and cooked through completely – reduce heat needed.  Store chicken on a plate covered with foil as you go.
Place dressing ingredients into a jar and shake well until smooth and combined.  Place salad leaves and herbs into a large bowl.  Just before serving, drizzle over dressing, add the chopped walnuts and toss until all the leaves are coated.
Place dressed salad leaves onto 4 large serving plates or bowls.  Place over chicken pieces evenly, scatter over roast chickpeas then parmesan cheese.  Serve with bread or rolls if you like.
Serves: 4 lunch dishes