These rustic muffins are relatively healthy and wholesome and I gave them a fluffy texture by using wholemeal cake flour (basically just cornflour added to plain wholemeal – makes for a really soft crumb but with added fibre and such).
These are packed with blueberries and a bit spicy with a light crunchy topping; they're just the thing for morning tea.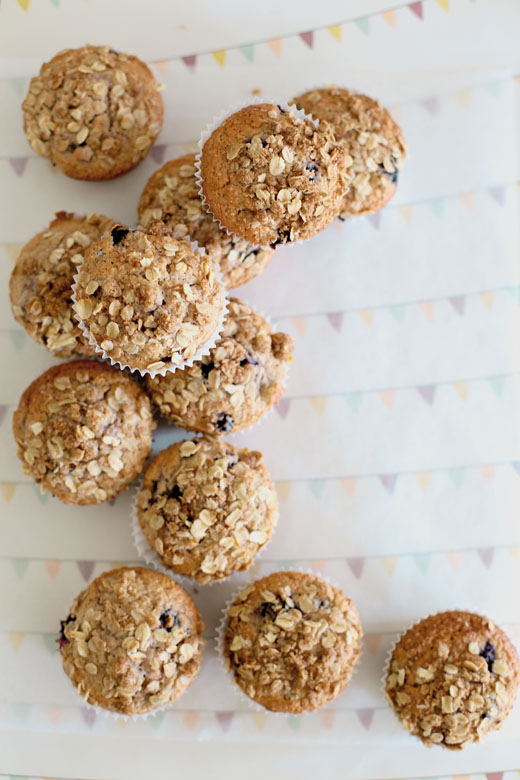 Recipe for blueberry oat streusel muffins:
2 large eggs
1 tspn vanilla concentrated extract
1 cup full fat Greek style yoghurt
1/2 cup oil
2 cups wholemeal cake flour (see recipe instructions)
4 x 15ml tblspns cornflour
2 tspns baking powder
1/2 tspn mixed spice
1/2 tspn ground cinnamon
3/4 cup raw caster sugar
200g blueberries
Streusel topping:
1/3 cup natural oats (not the instant kind)
1 x 20ml tblspn wholemeal plain flour
1 x 15ml tblspn brown sugar
1/4 tspn mixed spice
1 x 15ml tblspn oil
Make sure cold ingredients have sat at room temperature for 10 minutes or so.  Preheat oven to 180C.  Place muffin or cupcake liners into 12 cup standard muffin tin.
Place streusel topping ingredients in order of ingredients into small bowl and stir to combine until all the ingredients are coated with oil.
In a medium sized jug, add eggs, vanilla, yoghurt and oil, whisking until combined and creamy.
Place 2 x 15ml tblspns cornflour into 1 cup measure – fill to the top with wholemeal plain flour and sift into a large bowl along with the husks; repeat (to make 2 cups altogether) and sift 3-4 times then add the baking powder and spices with the last sift.  Whisk through sugar then mix through blueberries.  Pour wet mixture into dry ingredients and use wooden spoon to stir until just combined, making sure not to overbeat.
Spoon into prepared muffin tins evenly.  Spoon around a teaspoon of streusel topping onto the top of each muffin and press in gently.
Bake for 25 minutes, or until golden brown on top and tops spring back when pressed gently (I turn mine around after 15 minutes or so).  Allow to cool in tin for 5 minutes then remove onto cooling rack to cool.  Best served warm or at room temperature on the day they're made.
Serves: 12