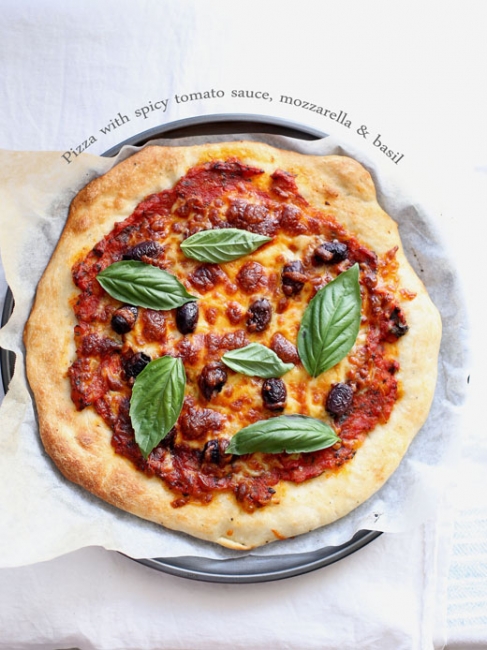 If I'm honest, my favourite pizza lately is really simple; home made tomato sauce with basil and mozzarella.  A few kalamata olives scattered over add a welcome touch of saltiness.
I've made pizza bases before although it's not a regular thing; I've finally come up with a recipe I'm really happy with though – chewy and crusty with just the right amount of thickness and so much nicer and more authentic than the store-bought ones.  Oh and it can be frozen really well if you want to double or triple the ingredients – see the note under the recipe for how-to.  The sauce is a basic marinara sauce but cooked down until almost relish-like in texture; spicy, naturally sweet and also easily frozen.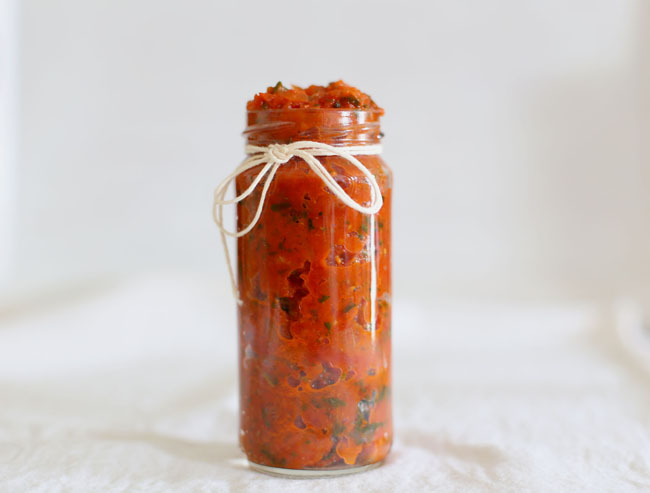 Recipe for pizza margherita:
Pizza base:
1 1/2 cups bread & pizza flour
1 tspn Tandaco dry yeast
1 tspn finely ground sea salt
2/3 cup luke-warm water, from the tap
1 x 15ml tblspn grapeseed or olive oil + 10mls oil extra
Pizza sauce:
1 x 20ml tblspn extra virgin olive oil
1 pinch chilli flakes
1 clove of garlic, crushed
1 small onion, diced
1 400g tin of diced tomatoes
1 tspn sugar
Freshly ground sea salt & black pepper
Small handful fresh basil, chopped
Topping:
100g coarsely grated mozzarella cheese
50g kalamata olives (optional)
Handful fresh basil
Ensure you have a flat, clean and dry surface lightly dusted with flour with some spare flour nearby.  Find a large, glass bowl and lightly brush with oil.
Place flour, yeast and salt into a large mixing bowl and whisk to combine.  Make a small well in the centre of the dry ingredients and add the water and 15mls of oil; use a wooden spoon to bring the flour mixture into the wet ingredients, folding gently to bring together a sticky dough.
Tip the dough out onto your prepared surface and knead by hand for around 6-8 minutes, or until smooth and elastic, lightly dusting hands and dough with flour as needed.  Bring dough together in a ball and place into the prepared bowl.  Wrap top of bowl with plastic wrap then drape over a damp tea towel.  Sit in a still, warm place for an hour or so, or until doubled in size.
Meanwhile, make your sauce:
Place oil, chilli flakes, garlic and onion to a small-medium, heavy based saucepan.  Add seasoning to taste (be fairly generous with the salt).  Sauté on medium heat uncovered, stirring occasionally for around 7-8 minutes, or until onion is transparent and soft.  Turn the heat up to high, add tomatoes, sugar and more seasoning if you like and once it starts bubbling, turn down to medium and simmer uncovered for 40-45 minutes or so, stirring regularly, until mixture has reduced by about 1/2 and is thick in texture.  Stir through basil about 5 minutes before the end of cooking time and season further to taste.
Cool for 10 minutes then use a stick blender briefly (and carefully) to blend until sauce has broken down but still has a rustic texture.
Preheat oven to 250C or 240C for fan-forced.
Punch down dough.  Use a lightly floured rolling pin to roll out dough on a piece of baking paper, to a 30cm round or alternately, you can use your hands to press out dough into desired shape.  Place dough over your fist to stretch it out a bit then carefully place onto a pizza tray with holes in the base or a baking tray.  Spoon over around half the tomato sauce, smoothing out evenly, leaving a 2-3cm edge.  Sprinkle over olives, if using then cheese.  Brush the extra oil around the crust.
Cook pizza for 12-15 minutes, or until cheese is bubbling and pizza is golden brown.  Scatter over fresh basil.
Serve straight away but be careful not to burn your mouth!
Serves: 2-3 (1 30cm pizza)
Note 1: use the remainder of the tomato sauce for another pizza or to stir through pasta.  Can be frozen for up to 3 months.
Note 2: pizza dough can be frozen for up to 3 months; make pizza dough to your specifications and allow to rise as per recipe then punch down.  Form into a ball or disc, wrap firmly in plastic wrap and place into freezer bag and seal, making sure to remove all the air from the bag.  The night before you wish to use it, allow to defrost in the fridge completely then bring to room temperature for half an hour in the plastic wrap.  Roll out dough and use as per the recipe.