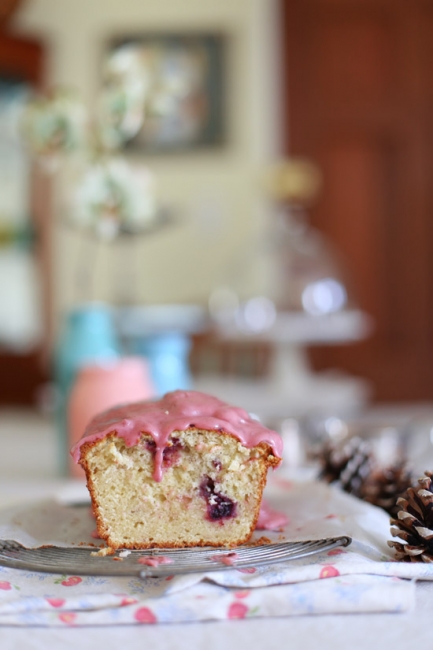 Ricotta makes a beautiful cake; soft with a delicate crumb.  So I decided to use some to make a lemon cake with soft, sweet cherries dotted throughout and a thick, fudgy berry icing.  Jam, preferably a decent, mostly fruit filled one, is perfect for whipping up a quick icing (I made this icing a while back) although this time I added a tablespoon of butter which gave it a rich creaminess.  It's not strictly necessary as a dusting of icing sugar would also be nice.
The icing is pretty awesome though.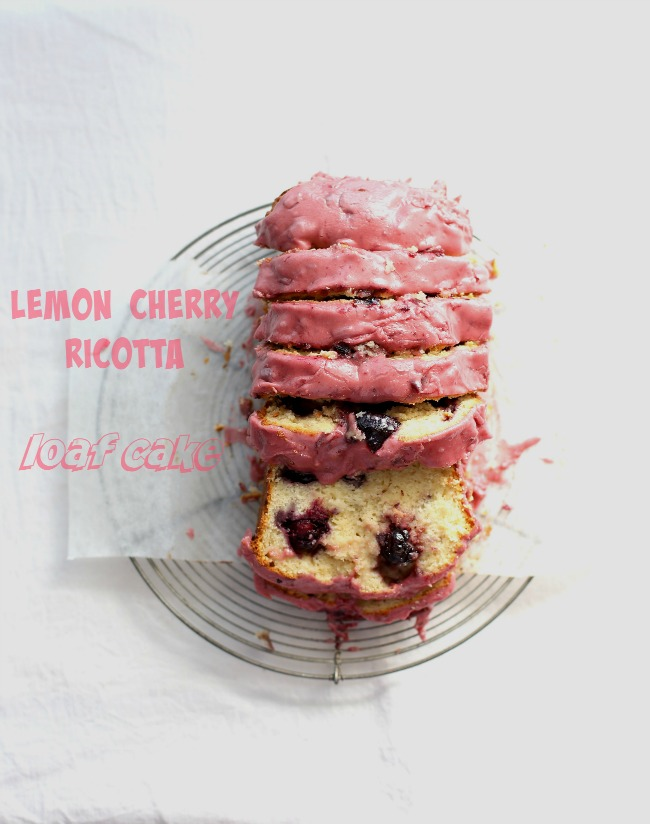 Recipe for lemon cherry ricotta loaf cake:
1 3/4 cups white plain flour
2 tspns baking powder
Pinch salt
160g cherries, pitted and halved
120g unsalted butter, softened at room temperature
3/4 cup raw caster sugar
1 tspn vanilla extract
Lemon zest from 2 lemons
2 large eggs, at room temperature
1 cup full fat smooth ricotta cheese, at room temperature
Icing:
1 1/2 cups icing sugar, sifted
1 x 15ml tblspn unsalted butter, softened at room temp
1/2 tspn vanilla concentrated extract
3 x 20ml tblspns good cherry jam
Preheat oven to 180C.  Grease a 22cm loaf tin and line with baking paper, leaving some over the sides for easier removal.
Sift flours, baking powder and salt into a large mixing bowl; toss through the cherries.
Place butter and sugar into a large mixing bowl and use electric mixer to beat on medium speed for 2-3 minutes, or until light and fluffy.  Add extract, lemon zest and one egg and beat on low speed just until combined; add remaining egg and repeat.  Add flour mixture and ricotta in four parts, folding in gently with a wooden spoon after each addition, just until combined (mixture will be quite stiff).
Spoon cake mixture into prepared cake tin, smooth the top with a butter knife and bake for about an hour, checking after 45 minutes (turn pan 3/4 of the way through), or until light golden brown, the top is firm and a skewer inserted into the middle of the cake comes out clean.
Allow cake to cool in tin for 10 minutes then remove cake onto cooling rack to cool completely before icing.
Icing:
Add ingredients to a medium sized bowl and use a wooden spoon to briskly mix for 2 minutes, or until smooth, thick and creamy.
Serves: 10