I purchased some coconut oil ages ago and never know what to do with it!  I was going to use my usual unsalted butter for this crumble but then thought I'd try the bottle of coconut oil sitting gloomily at the back of my fridge instead.  Despite the fact that I'm not particularly paranoid about natural saturated fats, I'm not entirely convinced about the health benefits of coconut oil, what with all the diet related jibba jabba around the internet these days.
It does make a beautiful crumble though, smells really nice and is a good substitute for butter in a kindly, animal friendly way and I respect that.  I couldn't resist adding some fresh figs to this lovely crumble (I love crumbles!  They're low maintenance to put together yet so delicious and I've really been loving the peaches this season).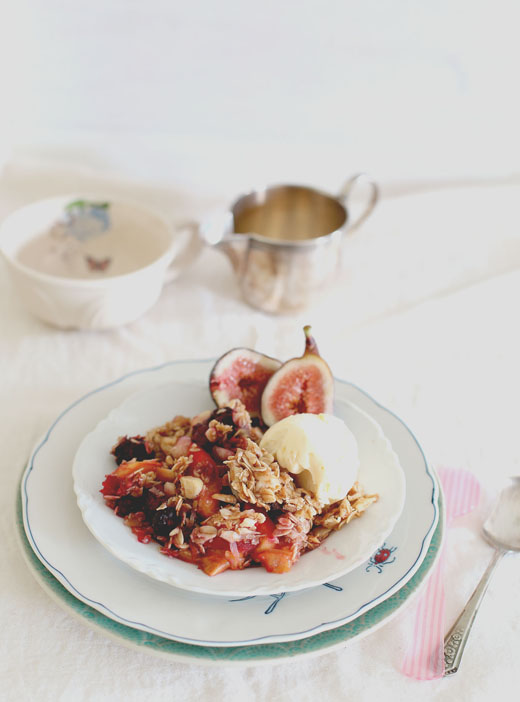 Recipe for blackberry peach crumble:
4 medium to large ripe peaches, sliced into wedges
200g blackberries
1 x 15ml tblspn lemon juice
1 vanilla bean, beans scraped out OR 1 tspn vanilla bean paste
3 x 20ml tblspns raw sugar (or vegan sugar substitute)
3 x 20ml tblspns arrowroot or cornflour
Crumble:
3/4 cup natural oats
2 x 20ml tblspns wholemeal flour
2 x 20ml tblspn dried coconut flakes
2 x 15ml tblspns brown sugar (or vegan sugar substitute)
50g macadamia nuts, coarsely chopped
1/2 tspn mixed spice
2 x 15ml tblspns pure maple syrup
1 tspn vanilla concentrated extract (or 2 tspns vanilla extract)
3 x 20ml tblspns coconut oil, at liquid temperature
Fresh fruit, to decorate
Preheat oven to 180C.  Grease a 20cm baking dish (I used an enamel pie tin).  Place onto a large, flat baking pan.
Place fruit into a large bowl; add lemon juice and vanilla bean paste and toss gently to combine; add the remainder of the ingredients then fold through until combined.  Spoon into prepared baking dish and spread out evenly.
Add the first 6 crumble ingredients to another large bowl and stir until combined.  Whisk maple syrup, vanilla and coconut oil until combined then add to oat mixture and stir through until everything is coated well.  Scatter topping evenly over the fruit.
Bake for 35-40 minutes, or until the crumble is golden brown and the filling is bubbling hot.
Sit for 10 minutes then serve with ice cream, cream or custard.
Serves: 4