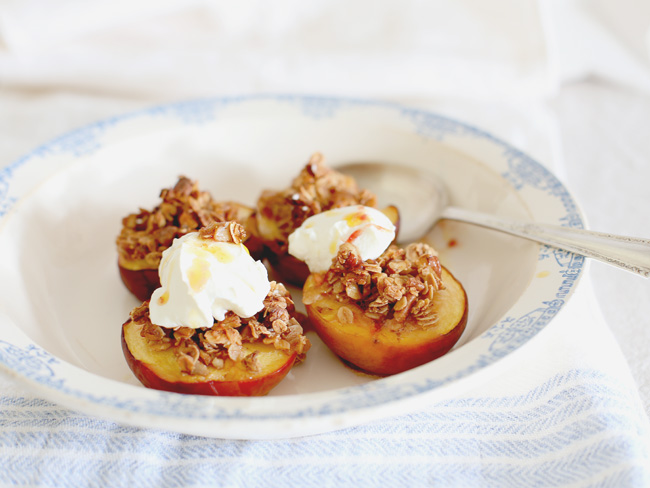 The fragrance of these roast peaches throughout the house while baking! Vanilla scented, sweet and caramelised – a lovely (and health conscious) breakfast, even if you do have to turn on the oven on a sunny morning. Totally worth it and their warm sweetness went so well with some cool Greek yoghurt.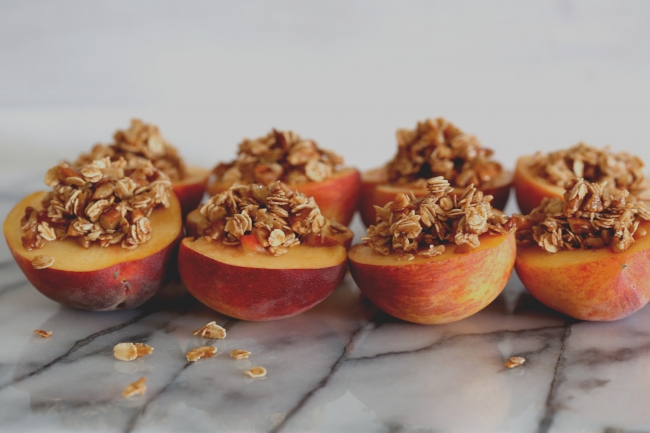 Recipe for roast breakfast peaches:
4 medium yellow peaches, washed & dried, halved & pitted
Brown sugar
2 x 20ml tblspns unsalted butter or cooking margarine
1/2 tspn vanilla concentrated extract (or 1 tspn vanilla extract)
1/3 cup natural oats
30g pecans, chopped roughly
1/4 tspn ground cinnamon
2 x 15ml tblspns pure maple syrup
Greek yoghurt and maple syrup, to serve
Preheat oven to 180C.  Find a 20cm rectangular baking dish.  Place peach halves, sliced side up, in baking dish – if you like things a bit sweeter, scatter a teaspoon of brown sugar over each one.
Add butter and vanilla to a small pan and melt on low heat.
Add oats, pecans & cinnamon to a medium sized mixing bowl and toss through until combined.  Add maple syrup and stir through until everything is coated.  Pile equal size spoonfuls of oat mixture onto each peach half then spoon over butter/vanilla mixture evenly.
Bake for 30 minutes, or until oats are light golden and the peaches have softened and caramelised.
Serve straight away dolloped with Greek yoghurt and extra maple syrup.  There's also a lovely syrup on the base of the baking pan to drizzle over.
Serves: 4