I haven't used my poor waffle iron in ages so this morning I used some lovely, fresh blueberries to make waffles for a special Sunday breakfast.  Although I've made waffles before quite a few times, they were usually a bit thinner and crisper and I really wanted to make higher, fluffy ones.
They turned out really well, crisp on the outside and fluffy in the middle.  We added loads of maple syrup and extra blueberries.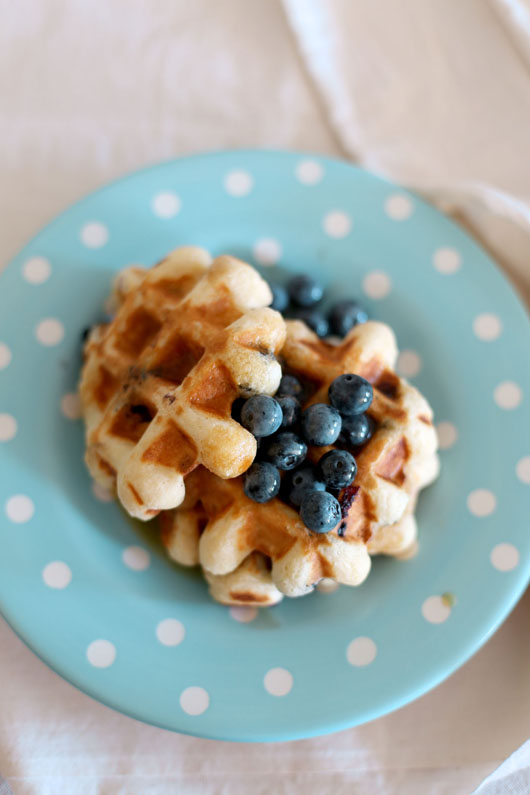 Recipe for blueberry waffles:
1 cup plain flour
2 tspns baking powder
Pinch salt
2 x 15ml tblspns raw sugar
Heaped 1/4 cup fresh blueberries
1 large egg, at room temp
1/2 cup milk
1/4 cup Greek yoghurt
1 tspn vanilla concentrated extract (or 2 tspns vanilla extract)
3 x 20ml tblspns unsalted butter, melted and cooled a bit
Extra blueberries, butter & maple syrup for serving
Whisk flour, baking powder, salt and sugar in a large bowl.  Add egg, milk, yoghurt, vanilla and 2 tablespoons of the butter (leave the remainder to brush the waffle iron) to a jug and whisk until combined and creamy; add wet ingredients to the dry and fold through until just combined.  Allow to sit for 5 minutes.
Use waffle maker as per instructions to cook waffles until browned.  I have a square waffle maker and I like to place a couple of tablespoons into the centre to make a rounder, smaller waffle.
Serve straight away with butter, extra berries and maple syrup.
Makes: 6 (2 large servings)