I really don't make enough pies.  So I decided to whip up a rustic pie with some luscious summer fruit.  Initially, I was going to use yellow peaches but they sent me nectarines instead in my shopping so I tried those.  This lovely pie is packed full of fruit, as it should be in summer!  And I didn't make mine too sweet but feel free to add a bit more sugar to the fruit if you feel like it.
Oh and recently I purchased a great metal pie tin (like this one here) with a removable base with holes on it; I really recommend this if you a) make a lot of pies, or, like me b) are relatively inexperienced in making them as it makes things so much better for baking and removal of the pie later on.  However if you can't be arsed buying one (and why should you?) then just use a decent sized, normal pie tin, except you won't be able to remove the whole pie from it, obv., so just serve slices straight from that.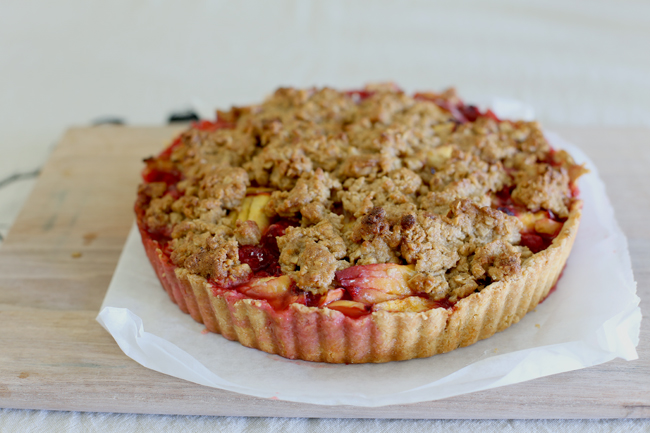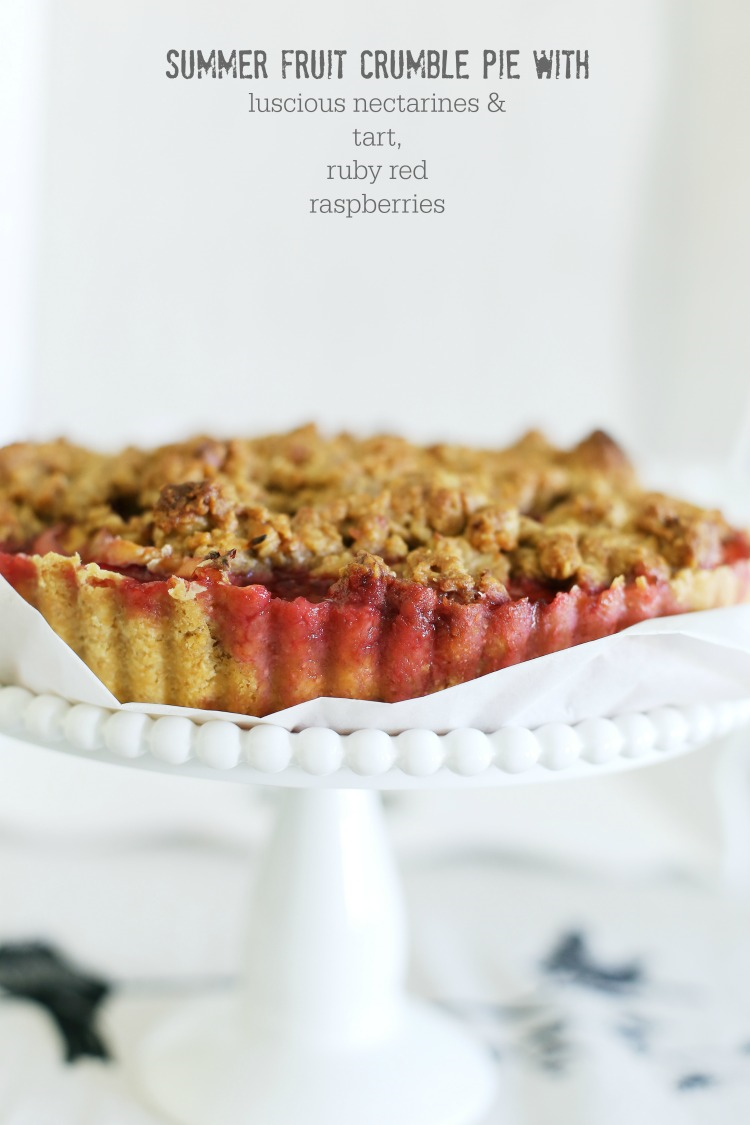 Recipe for nectarine raspberry crumble pie:
Pastry:
1 1/2 cups wholemeal plain flour
2 x 20ml tblspns raw sugar
Pinch salt
120g unsalted butter, chilled, diced
1 large egg yolk, chilled and lightly beaten
30mls chilled water
Filling:
1.2kg (1200 grams) whole, ripe yet firm nectarines; washed, dried well, skin left on (use organic if you prefer) and sliced into wedges 1/2 cm thick
300g raspberries, washed & dried well
1/2 cup raw sugar (if your fruit isn't very sweet, I would add 1/4 cup more)
1 tspn vanilla concentrated essence (or 2 tspns vanilla extract)
10mls lemon juice
4 x 20ml tblspns cornflour or plain flour
Crumble topping:
2/3 cup natural oats
Scant 2/3 cup wholemeal flour
2 x 20ml tblspns dried coconut flakes
1 tspn mixed spice
1/3 cup brown sugar (packed)
40g pecans, coarsely chopped
130g unsalted chilled butter, diced
1 x 20ml tblspn golden syrup
Pastry:
Grease a 23cm (base) metal pie tin (the metal tins conduct heat better if you're baking a pie with uncooked pastry on the bottom) – I used one with 4cm sides and a removable base.  Place onto a flat baking tray to catch drips.
Add flour, sugar and salt to a large mixing bowl and whisk to combine then add butter cubes and rub through using clean fingertips until mixture resembles fine breadcrumbs yet still has small pieces of butter throughout.  Whisk egg and around 30mls of chilled water with a fork then stir through flour mixture with a wooden spoon until dough just comes together, adding more chilled water if necessary.
Turn dough out onto a flat surface lined with lightly floured baking paper and bring together with your hands. Shape into disc and use floured rolling pin to roll out pastry to fit pie tin; slide pastry from the paper carefully into tin and press into base and up the sides.  Chill in the fridge for at least an hour.
Preheat oven to 180 degrees C for 15 minutes.
Crumble:
Add oats, flour, coconut, spice, sugar and pecans to a large bowl and stir to combine.  Add butter then golden syrup and use your (clean) fingertips to rub butter through mixture until it resembles very damp clumps.
Filling:
Optional:  Add sliced nectarines to a sieve and sit over the sink for half an hour until quite a few juices have drained out.  I didn't do this so my pie was very juicy however if you prefer yours a little less so, don't skip this part.
Just before placing in the pie shell – add fruit (drained or undrained) to a large bowl – add sugar, vanilla and lemon juice and toss through gently.  Scatter over cornflour and fold gently until combined.
Fill pastry crust with fruit filling and pile on crumble topping – it doesn't have to be particularly even.
Place pie tin on baking tray into oven and bake for 55-60 minutes, or until the crumble has browned and fruit is bubbling and cooked through.
Let pie tin sit for an hour on a cooling rack then serve with cream, custard or ice cream.
Serves 8
Note:  Peaches can be used in place of the nectarines.