This is a lovely, fresh and healthy salad I made recently.  Now just to warn, it's quite onion .. y so if you're not into raw onion I would (Obv), leave out the red onion.  The paper thin slices of vegetables aren't mandatory but texture wise and as far as flavour goes, they do make this salad very light and crisp and the onion less sharp, however if you don't have a mandoline, just use a sharp knife and slice as thin as you can.  You could have this just on it's own as a low carb and energy giving lunch but it was lovely with some buttered baguette, as most things are!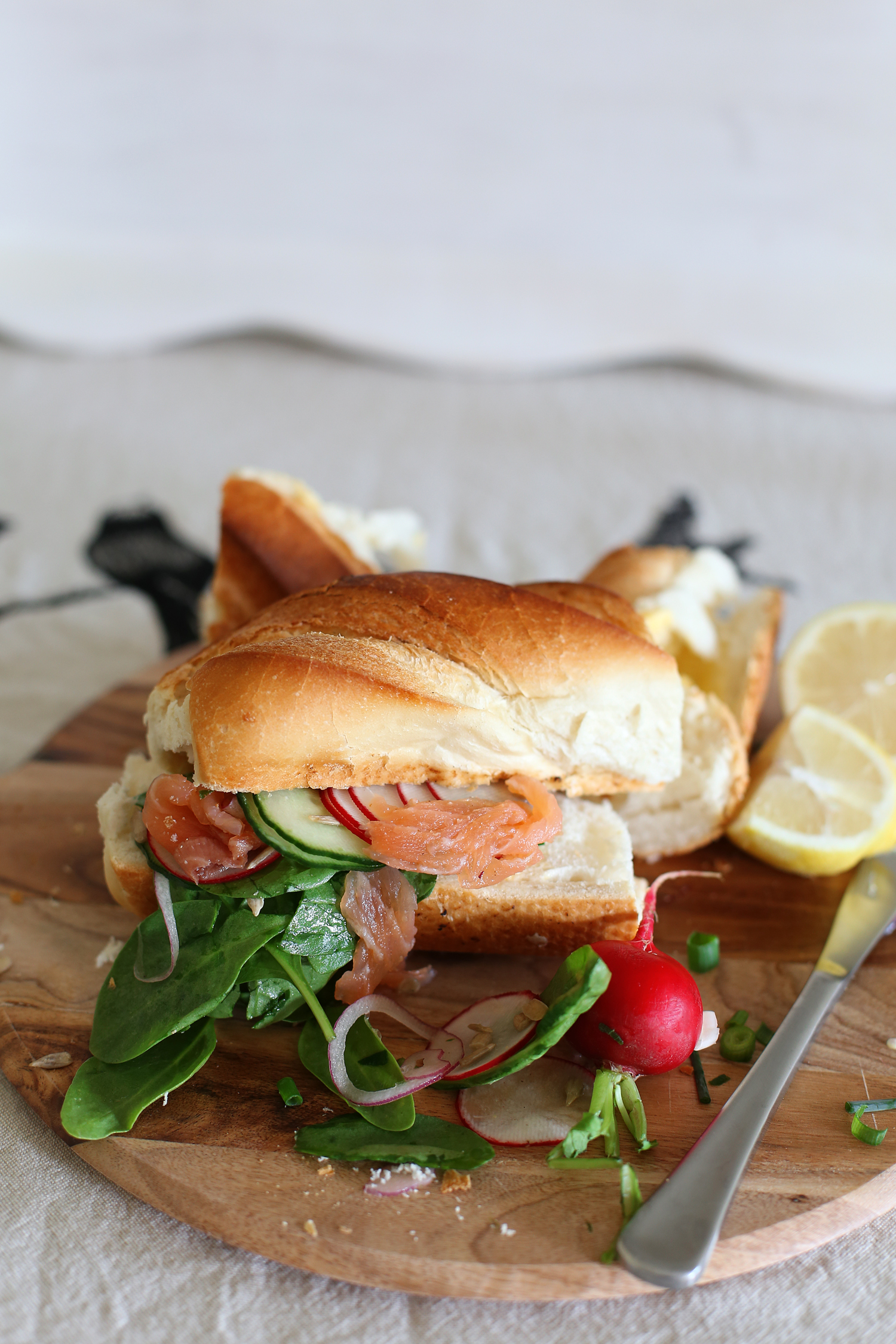 Recipe for smoked salmon & spinach salad:
40mls extra virgin olive oil or macadamia nut oil
20mls apple cider vinegar
1 tspn lemon zest, finely grated
1/4 tspn raw caster sugar
60g baby spinach
1/2 medium red onion, very thinly sliced
6 medium radishes, very thinly sliced
2 small Lebanese cucumbers, very thinly sliced
Handful continental parsley, coarsely chopped
2 spring onions, white and green part thinly sliced
2 tblspns sunflower seeds
180g sodium reduced smoked salmon, thinly sliced
Freshly ground sea salt & black pepper
Lemon wedges
2 small, buttered baguettes, to serve
Add dressing ingredients to a jar and shake well until combined or whisk in a small bowl, alternately.  Set aside.
Place first 7 ingredients into a large bowl, then drizzle over dressing; toss until combined, glossy and the sunflower seeds are evenly distributed.  Place evenly over 2 plates or bowls then add smoked salmon over the top with the baguettes on the side.  Season with black pepper, sea salt and a squeeze of lemon (you shouldn't need too much salt).
This is really nice with the smoked salmon and salad place between the sliced, buttered baguettes and eaten as a sandwich or as a salad on it's own.
Serves: 2
Note:  To achieve really thin slices for the onion, radish & cucumber, I used a mandoline on the thinnest setting.
Adapted from: Food and Wine