Remember the black sticky rice pudding I made a while back?  Well lately, due to hot mornings and such, I've been cooking black glutinous rice and storing it in the fridge it for breakfasts for the next day or two and serving it with syrup, Greek yoghurt and berries.  It's a really convenient breakfast if you make the rice the day before and it's full of healthy, energy-giving ingredients and not only that, it tasted lovely, with lots of vanilla flavour and natural sweetness.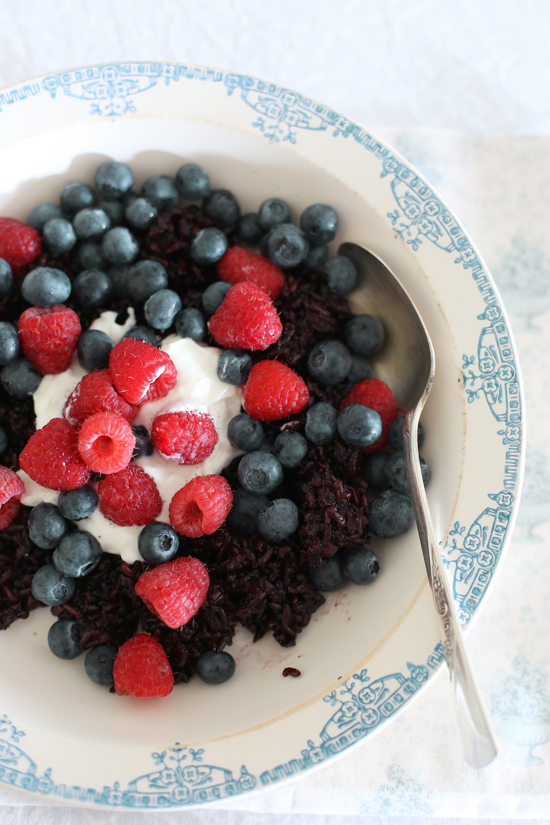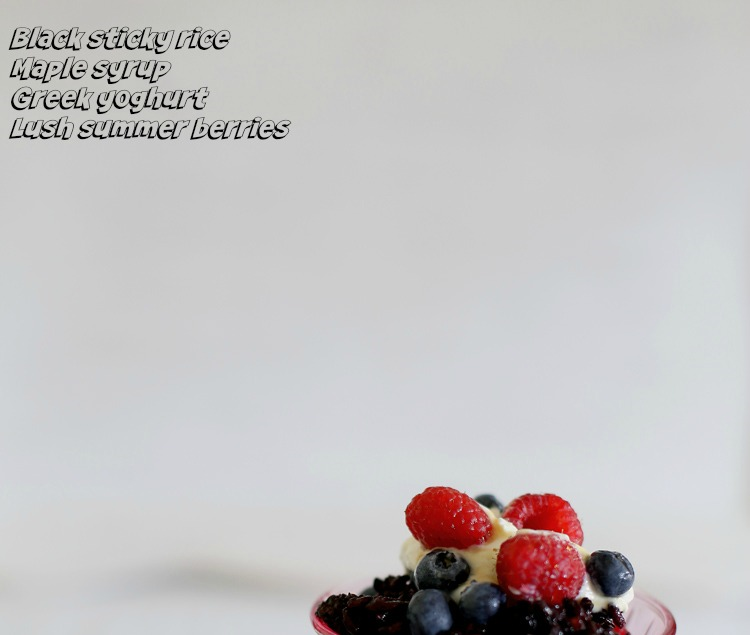 Recipe for black sticky rice antioxidant breakfast bowl:
250g black glutinous rice
500mls (2 cups) water
2 tspns vanilla extract or essence
To serve: 250g blueberries, 250g raspberries, maple syrup and Greek yoghurt
Rinse rice well in a fine sieve under cold running water.  Place rice in a medium-large, heavy based saucepan with 500mls of water.  Bring to the boil, immediately reduce the heat to low/medium and simmer gently, covered, for around 35 minutes or until all the water has absorbed into the rice – try not to lift the lid  during cooking time and don't stir.
Remove pan from the hotplate, immediately drizzle vanilla concentrate over the top of the rice then cover with the lid and set aside to steam for 35-40 minutes, or until grains are tender.  Stir vanilla through rice.
Store in an air tight container in the fridge for up to 2 days.
For each person: serve with 1 x 15ml tablespoon of pure maple syrup or sweet molasses, 2 heaped tablespoons of Greek yoghurt and berries or dried figs.
Serves: 4