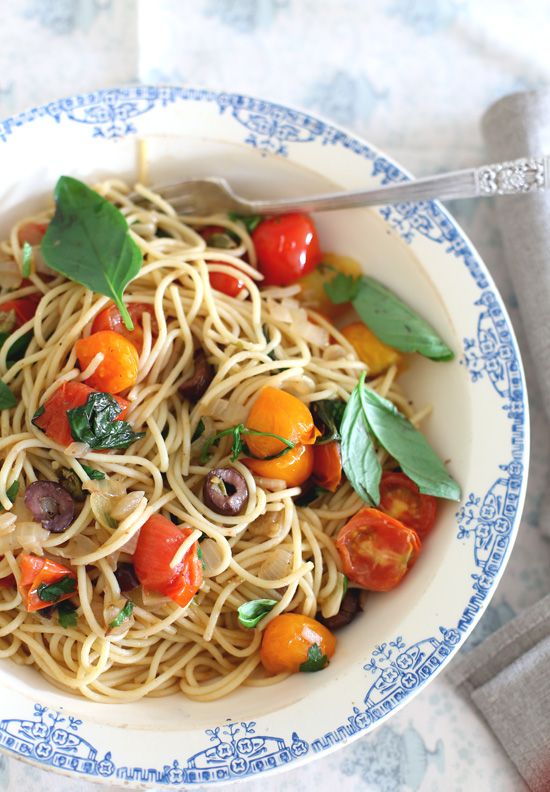 This classic Italian recipe, which I changed a bit by using cherry tomatoes, is amazingly flavourful.  The trifecta (so unpopular when I was a kid but now I love them) of olives, capers and anchovies make for a delicious dish without being overpowering at all.  I really enjoyed this!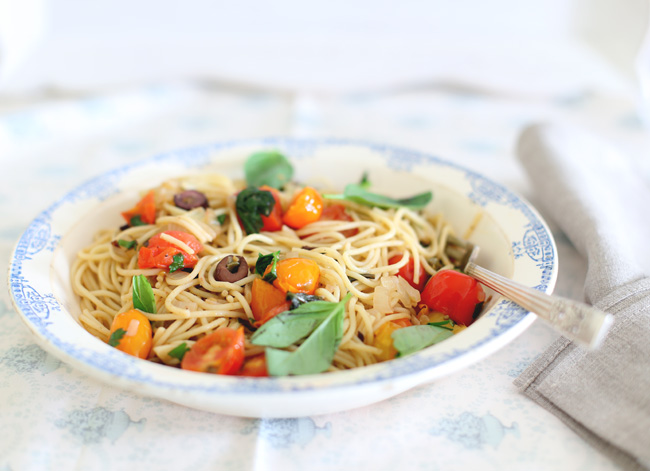 Recipe for spaghetti alla puttanesca:
300g dried spaghetti
2 x 15ml tblspns olive or grapeseed oil:
1 large onion, diced
4 cloves garlic, thinly sliced
Small pinch chilli flakes (just for a bit of heat, not spiciness)
5 anchovies in olive oil, drained, diced finely (optional – leave out if vegetarian)
1 x 20ml tblspn capers, drained, diced finely (double this amount if not using the anchovies)
500g coloured cherry tomatoes, halved
80g kalamata olives, sliced
Handful flat leaf parsley, chopped
Handful basil leaves, chopped
60mls extra virgin olive oil
Add spaghetti to a large pot of boiling, salted water and cook until al dente, around 11 minutes.  Drain, reserving a coffee cup of the pasta water – set aside.
Meanwhile, while pasta is cooking, add oil, onion, garlic, chilli flakes, anchovies and capers to a large fry pan (large enough for the cooked spaghetti) and bring to a sizzle then turn down immediately to low/medium, sautéing until onion is transparent; stir regularly.  Add tomatoes and olives, increase heat a little and toss through for 2-3 minutes until tomatoes are slightly softened.  Add cooked spaghetti to mixture and toss through the herbs; add extra virgin olive oil and a decent amount of freshly ground black pepper and disperse the ingredients well, gradually adding as much pasta water as it needs to stop drying out.
Serve immediately into serving bowls with extra olive oil and basil leaves if you like.
Serves: 3