I love me a taco!  So I whipped some up recently with buttery, spicy salmon – combined with fresh summer vegies and a zesty, spicy sour cream dressing, these were really delicious but also nice and light.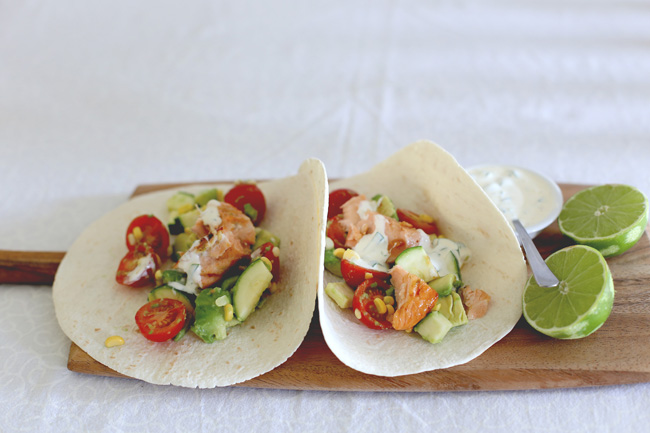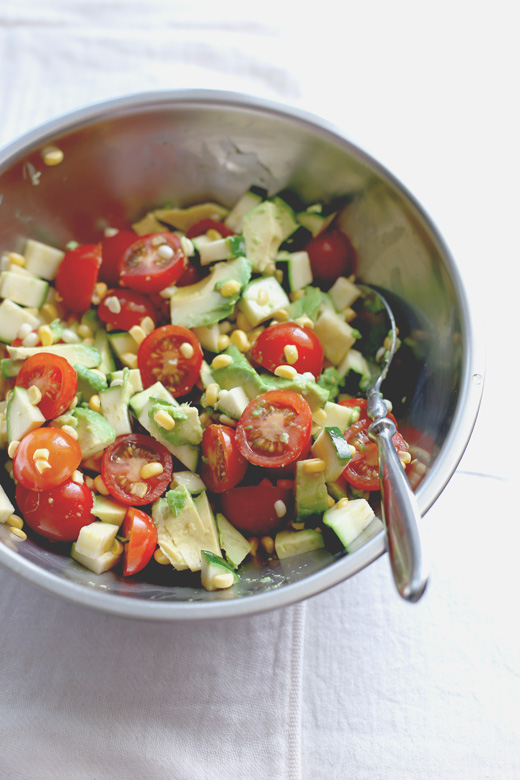 Recipe for spicy salmon soft tacos:
Salmon:
2 x 130g fillets Atlantic salmon, fresh or frozen
1 x 15ml tblspn grapeseed oil
1/2 tspn lime zest
1 small clove garlic, crushed
1 heaped tspn fresh ginger, grated
1 tspn brown sugar or maple syrup
Pinch chilli flakes
Freshly ground sea salt and black pepper
Sour cream dressing:
160mls sour cream
1 spring onion (green part), thinly sliced
Small pinch chilli flakes
5mls lime juice
1 tspn lime zest
10mls extra virgin olive oil
Freshly ground sea salt and black pepper
Salsa:
1/4 cup fresh sweetcorn kernels
250g punnet cherry tomatoes, halved
1 small zucchini, diced
1 medium avocado, diced
Small handful l coriander or flat leaf parsley, chopped coarsely
Squeeze lime juice
Freshly ground sea salt and black pepper

4 tortilla wraps
Lime wedges, to serve
Preheat oven to 200gC.
Place salmon fillets on baking paper lined, flat baking tray.  Whisk the remainder of the ingredients in a small bowl then spoon over salmon and rub in over all sides.  Bake for 18-20 minutes for frozen salmon and 8-12 minutes for fresh, or until rare in the middle and flaky.  Flake cooked salmon using a knife and fork and allow to sit on tray.
Meanwhile, add sweetcorn kernels to a heatproof bowl, pour over boiled water just to cover, sit for 2 minutes then drain in a fine sieve or colander; allow to sit for a bit.
Add sour cream dressing ingredients to a medium sized bowl and whisk until smooth and creamy.
Add salsa ingredients, including drained sweetcorn to a bowl and toss gently with a bit of lime juice and seasoning.
Place tacos on a board or plates.  Place equal amounts salad, salmon and sour cream dressing to each taco.  Serve straight away.
Makes: 4 tacos