I'm always banging on about spring produce but this time of year always inspires me to cook up huge, steaming bowls of pasta with this season's fresh and lovely vegies.  There's something about their sweet, crisp flavour combined with comforting spaghetti;  fresh, lemony and perfect for a weekend lunch.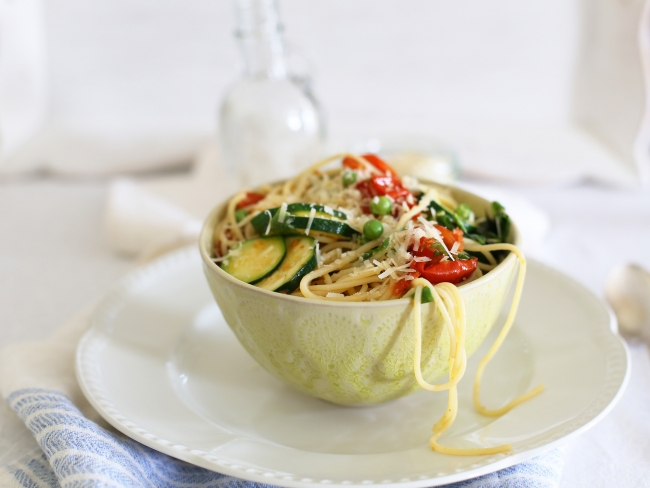 Recipe:
500g cherry tomatoes, halved
80mls extra virgin olive oil
3 cloves garlic, crushed
Pinch chilli flakes (to taste)
220g spaghetti
450 zucchini, thinly sliced
120g fresh or frozen spring peas
1 lemon, finely zested
Handful spring onions (green part) and basil, sliced thinly
Freshly ground sea salt & black pepper
60g Parmesan cheese, grated finely
Preheat oven to 160C.  Place halved cherry tomatoes, sliced side up, on a baking paper lined baking tray, season well then roast for an hour, or until caramelised and slightly dried.  Set aside.
Place large pot of water onto boil for the pasta.  Add olive oil, garlic and chilli flakes to a small pan and bring to low/medium heat, just until you can hear sizzling, then turn off, stirring then leave to infuse.
Cook spaghetti in boiling, salted water for 10-11 minutes, or until al dente.  Leave a mug under the colander for draining.
Around a minute before the end of cooking time for the pasta, add the zucchini, peas and lemon zest and stir through.  Drain in colander, reserving a cup of the pasta water, then place pasta and vegies back into the saucepan and back onto the hotplate on low heat.  Add infused olive oil, cherry tomatoes & herbs and stir through.  Add a splash of pasta water to moisten, some seasoning to taste and stir through.
Divide between plates or bowls, add a grinding of black pepper and parmesan and serve straight away.
Serves: 4 lunch servings, 2-3 dinner servings