Well I love bruschetta and toasted cheese sandwiches are my favourite thing ever so why not combine them?
You could always slowly roast the cherry tomatoes beforehand, however I prefer them fresh and steeped in the olive oil/balsamic vinegar dressing beforehand.  The combination of melted, decadent cheese with fresh tomatoes is really delicious.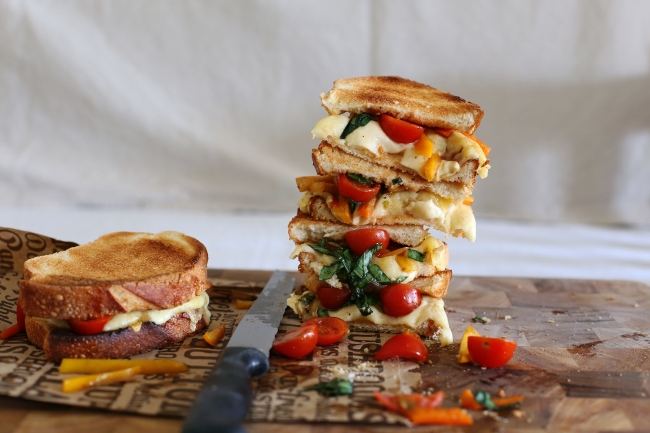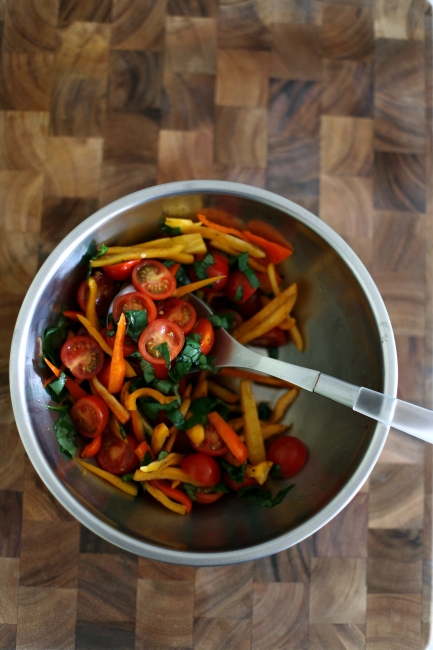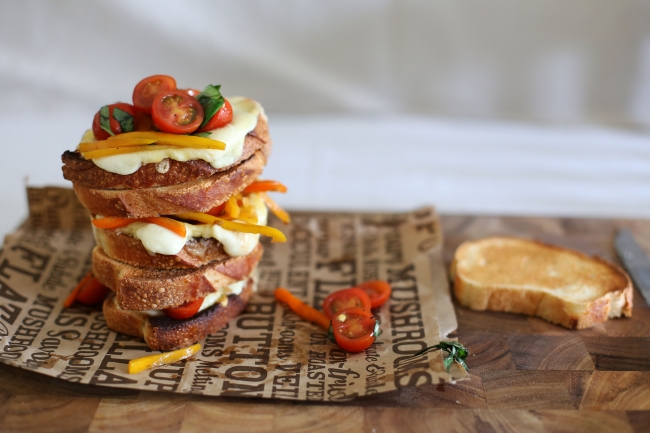 Recipe for bruschetta toasted sarnie:
250g cherry tomatoes, halved
4 coloured baby capsicum (peppers), sliced thinly
2 heaped tblspns fresh basil, finely sliced
1 x 15ml tblspn balsamic vinegar
1 x 15ml tblspn extra virgin olive oil
Freshly ground sea salt & black pepper
8 slices sour dough or rustic bread
160g cherry bocconcini, torn into pieces
160g good cheddar cheese, grated
Add cherry tomatoes, capsicum, basil, balsamic vinegar and extra virgin olive oil to a medium sized bowl and season well; toss until combined.  Sit for 30 minutes or so.
Toast bread to a light golden brown.  Place 4 pieces of toasted bread on your grill; add cheddar cheese then bocconcini on top and press down, season with salt and pepper then grill until cheese has melted.  Use egg flip to place carefully onto plates, toss tomato mixture gently then pile onto the toasted cheese (you'll likely have some leftover for the side) and place remaining slices of bread over the top to make sandwiches, pressing down gently.  Serve straight away.
Serves: 4
Optional:  If you feel like turning the oven on, you could slow roast the halved cherry tomatoes on 160C for 45 minutes or so beforehand.