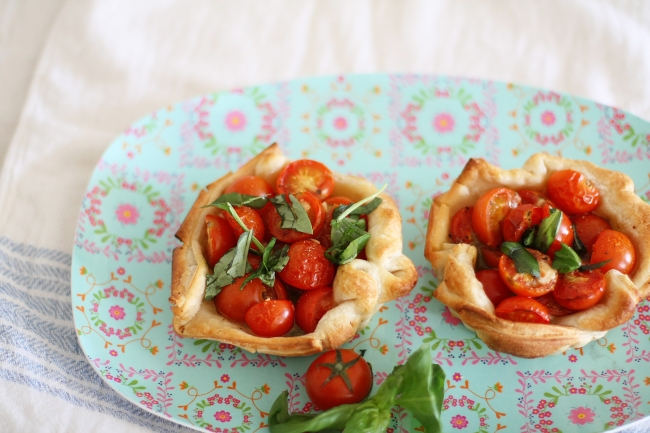 These little savoury tarts are so fresh, easy and light, they're perfect for a summer day, lunch with a girlfriend or a romantic starter with a glass of wine (and I know it's winter here but I make them all the time and anyway, El Niño).

Recipe for tomato basil tartlets:
1 ready made sheet low fat puff pastry
2 x 15ml tblspns bottled basil pesto sauce
15g Parmesan cheese, shaved
200g cherry tomatoes, halved
Extra virgin olive oil
Freshly ground black pepper
Handful fresh basil
Splash of milk for brushing
Preheat oven to 220C.
Grease 2 mini flan or pie tins and set aside.  Slice the pastry sheet into halves, fold over to make a square, pressing the pastry together then place into each flan tin, loosely curling up in a rustic shape.
Spoon pesto into the base of each tart.  Scatter over parmesan cheese and pile halved cherry tomatoes on top, leaving a few aside.  Lightly drizzle over olive oil and grind over some black pepper; brush milk around the sides of the pastry.
Bake for 20-25 minutes, or until pastry is puffed and golden brown, the tomatoes are slightly softened and the bases of the tarts are cooked through.  Drizzle over a bit more olive oil, scatter over basil leaves or a spoonful of extra pesto and serve.
Serves: 2 as a light lunch with salad or an entrée