So I made a cake a while back.  I am very fond of cake however don't make them that often because I tend to go overboard and have two pieces in one go.  The spices in this cake are lovely and reminiscent of Chai flavours with fresh strawberries and a crunchy topping.
This cake is really nice on its own; fluffy and high but I think a dollop of thick cream on top would be even better.  There aren't a huge amount of strawberries, just enough for a bite or two of fresh, sticky sweetness on the base.  You could, obviously, disperse them throughout the cake like I usually do however I love how jammy and sticky the fruit became on the base of this cake.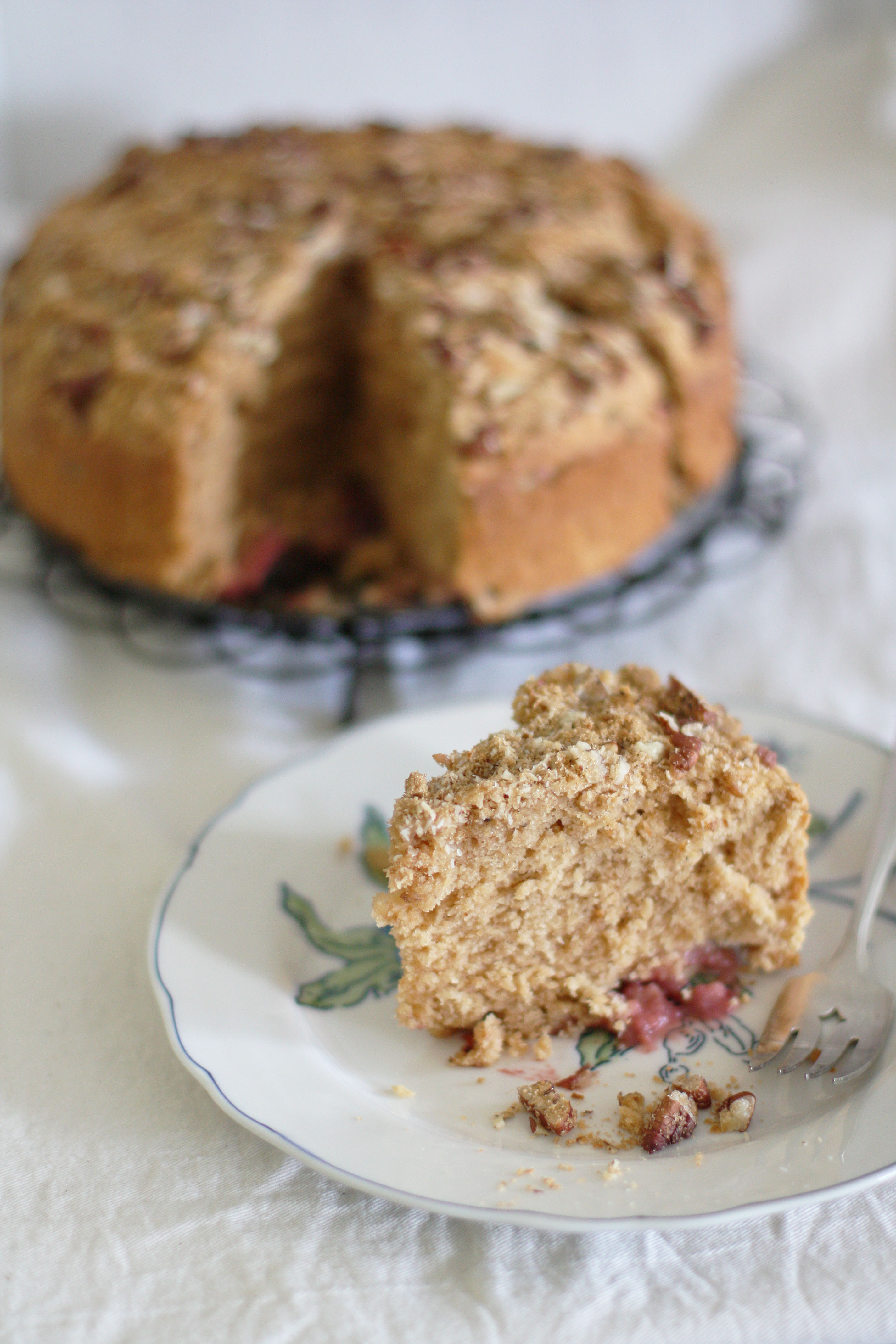 Recipe for Chai spice strawberry crumb cake:
2 1/2 cups self raising flour
1/4 tspn salt
1 tspn ground cinnamon
1/2 tspn ground ginger
1/4 tspn ground cardamom
1/4 tspn ground nutmeg
A few grinds of black pepper
120g unsalted butter, softened at room temperature
3/4 cup light brown sugar, firmly packed
1/2 cup raw sugar
2 large eggs
1 tspn vanilla extract or maple extract
1 1/4 cups buttermilk
Topping:
40g pecans, chopped coarsely
1 x 20ml tblspn desiccated coconut
1 x 20ml tblspn brown sugar
Base:
250g whole fresh strawberries, chopped
Preheat oven to 180 degrees C.  Grease 20cm (w) x 6cm (h) spring-form cake tin with butter.  Place baking paper on the base of tin.  Sprinkle over strawberries.
Stir the topping ingredients together in a small bowl.
Sift together the flour, salt and spices.  Cream butter and sugars in a mixing bowl using electric mixer on medium speed for 3-5 minutes, or until light and fluffy; add vanilla and eggs, one at a time beating on low speed just until combined, scraping bowl regularly.   In 4 additions, add sifted dry ingredients, alternating with buttermilk, beating on low speed until just combined (don't over-beat the mixture – I finish folding with a wooden spoon).
Pour batter over the strawberries and smooth top with a butter knife  or spatula – sprinkle over topping.  Bake for 45-60 minutes, or until a skewer inserted in the centre comes out clean and/or top springs back when pressed.
Cool in pan on cooling rack for 8 minutes; then remove sides of cake tin and place cake on the base onto cooling rack to cool completely (remember the strawberries on the base when you turn it out; I find it easier to cut slices while the cake is still on the base).
Serves: 8
Adapted from a previous post which was adapted from: Southern Food About