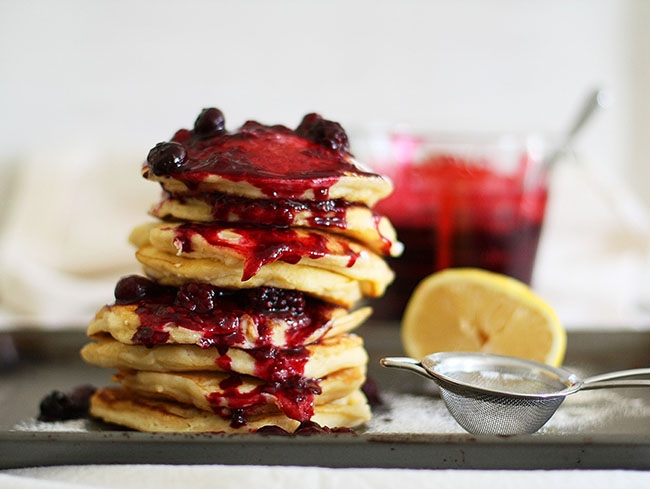 Whoop it's that time of year again!  This year I'm offering lemon ricotta pancakes with lush berry sauce for Shrove Tuesday, or Pancake Day, tomorrow.
You can serve these just with unsalted butter, lemon and sugar on their own and they're amazing; soft, fluffy, lemony/sweet and reminiscent of pancakes your mum might have made.  I do love a thick, luscious berry sauce though!  It's so easy to make and elevates these pancakes a bit more, as berries and lemon go so well together.
You will likely have heaps of sauce left over and I highly recommend it served with unsweetened Greek yoghurt, ice cream or porridge.
Enjoy.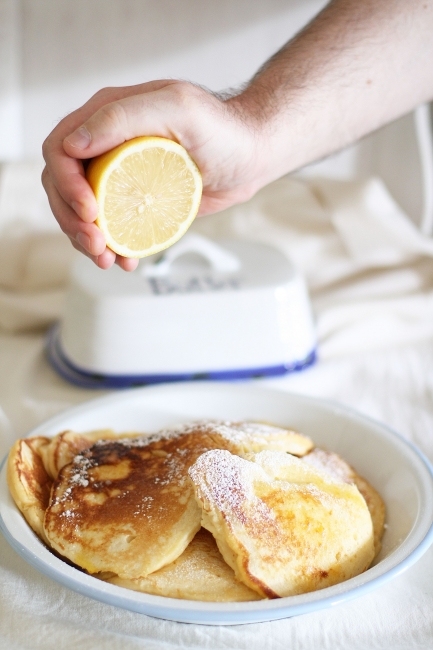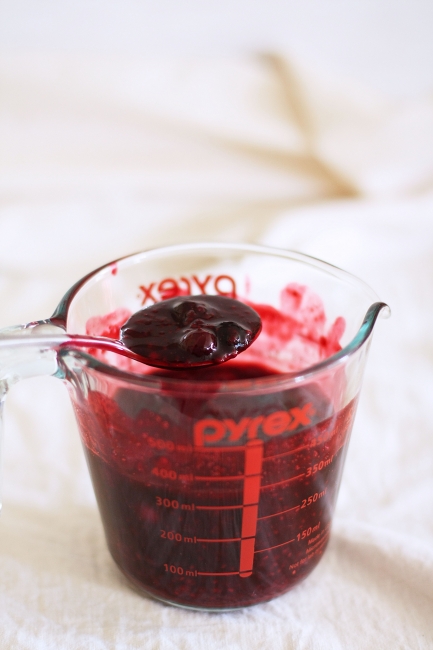 Recipe for lemon pancakes:
Berry sauce:
450g mixed berries
2 tspns lemon juice
2 x 20ml tblspns raw caster sugar
2 tspns cornflour mixed with 2 tspns water until smooth
2 cups full fat ricotta cheese
1 cup milk
4 large eggs, separated
1 tspn vanilla essence
1/4 cup raw caster sugar
3 tspns lemon zest
2 cups plain flour
2 tspns baking powder
Unsalted butter for cooking
To serve: butter, lemon juice, icing sugar
Add berries, lemon juice and caster sugar to a medium sized saucepan.  Heat on medium/high until you can see juice at the base of the pan, then add the cornflour/water mixture and stir quickly to combine.  Simmer on low/medium heat for a few minutes until mixture is thicker yet berries are still in tact.  Turn off heat, place lid on and set aside.  Just before serving, pour into a jug.
Whisk the ricotta, milk , egg yolks, vanilla, sugar and lemon zest in a large mixing bowl.  Sift the flour and baking powder into the wet ingredients and fold a few times gently.
In another bowl, beat the egg whites using a whisk or electric mixer until they have soft peaks (just before they turn firm),  then use a wooden spatula to fold into the wet mixture gently until combined.
Heat the oil or butter over high heat in a large, non stick fry pan and drop in heaped 1/3 cup measuring cups of mixture.  When you can see a couple of bubbles in the surface of each pancake, flip over and continue to cook for another 2 minutes or so, or until cooked through.  Continue with the remainder of the pancakes, turning down heat a bit to prevent burning.
Serve hot with butter, lemon juice, sifted icing sugar and berry sauce.
Pancakes serve: 4 (3 pancakes each)
Berry sauce: makes around 2 cups
Note:  it's much easier to separate eggs when they're cold from the fridge
Note: any berry sauce left over can be used on yoghurt, ice cream, porridge or can be frozen

Pancakes inspired by: From Season to Season by Sophie Dahl