I make muffins quite often to freeze for morning teas and such, so thought I'd use some blackberries I had in the freezer and a few limes left over from gin and tonics on a recent weekend to bake some summer inspired, vegan little cakes.
There really isn't any difference between these and muffins using eggs and dairy; they rose beautifully, are comfortingly soft and fluffy, just like traditional muffins and you get to save your eggs and help the chooks a bit.  I loved the lime flavour and burst of sweet blackberry with each bite and as usual, these taste best warm from the oven with a cuppa.
Just a quick chat about sugar and vegans; since I'm not vegan nor do I have anywhere near a complete understanding of the vegan lifestyle (and the sugar issue is an important one), I found some links which might explain things a bit better than I can:
Grassroots veganism
Vegan nutritionista
Panela organic cane sugar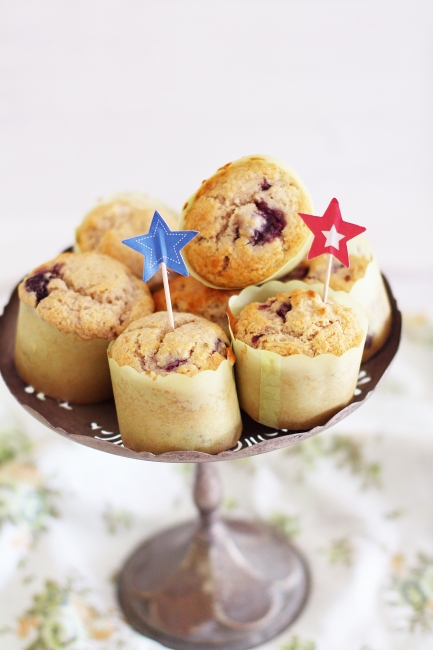 Recipe for blackberry lime muffins:
3/4 cup non dairy milk (I used oat milk)
15mls white wine vinegar
1 cup white self raising flour
1 cup wholemeal self raising flour
1/4 teaspoon baking powder
1/4 cup raw caster sugar (for vegans – organic cane sugar)
Pinch salt
1/2 cup grapeseed or macadamia oil
1/2 cup organic light agave syrup
3 small limes, finely zested
1 teaspoon pure vanilla extract
180g blackberries
Preheat oven to 180C.  Line a 12 cup muffin tin with 9 medium sized cupcake/muffin liners (I used the tall muffin liners, if you use smaller/shorter ones, you might need 10).  In a medium to large jug, add the milk then vinegar and allow to sit for 5 minutes.
Sift flours, baking powder, sugar and salt into a large mixing bowl.
Add the oil, agave, lime zest and vanilla extract to the milk/vinegar mixture and whisk until combined.  Add liquid ingredients and blackberries to flour and fold gently until just combined.  Spoon into cases and bake for 25-30 minutes or until tops are light golden brown and spring back when pressed.  Make sure to turn the muffin tin around after about 18 minutes so they brown evenly.
Allow to sit in tin for 5 minutes then move to cooling rack.
Makes: 9-10
Note:  These freeze well; wrap individually and tightly in plastic wrap then defrost at room temperature and microwave at medium/high temperature for 20 seconds or so.