It's that time of year when I start getting into clean and healthy salads.  This pretty salad might look light but is really substantial with a decent amount of protein and is packed with grainy quinoa, fresh, sweet tomatoes, crisp spicy radish, smoky tuna and salty feta.  I also added a creamy lemon dressing which topped off an easy, delicious and aesthetically pleasing lunch on the weekend (how food looks is important, it doesn't always have to be beautiful but when it is, I enjoy eating it that much more).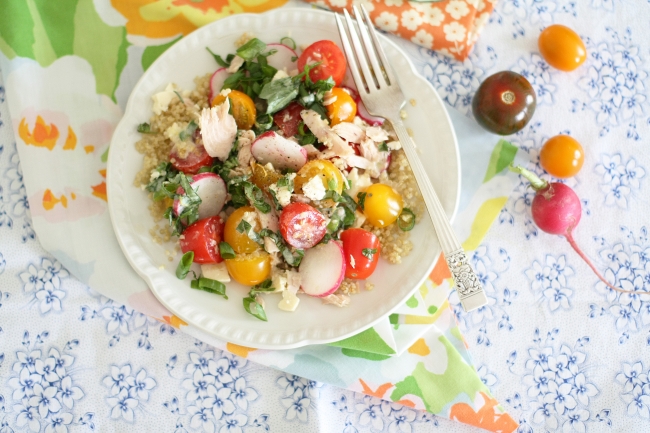 Recipe for quinoa, cherry tomato, tuna and feta salad:
Lemon dressing:
20mls lemon juice
40mls extra virgin olive oil
40mls Greek yoghurt
1/2 tspn lemon zest
1/2 tspn honey, agave or brown rice syrup
Sea salt and black pepper, to taste
1/3 cup quinoa, rinsed and drained
1 125g tin smoked tuna slices in oil, drained and flaked
400g coloured cherry tomatoes, halved
6 radishes, sliced
Handful Continental parsley, basil, spring onions, chopped
60g reduced fat feta cheese, cubed
For dressing:
Add all ingredients to a glass jar and shake to combine.  Set aside.
Add 1/3 cup of quinoa and 2/3 cup of water to a small saucepan and bring just to the boil on high heat, covered.  Once boiling, turn down to low and continue to simmer covered, for around 15 minutes, or until all the water is absorbed.  Remove saucepan from the heat and fluff quinoa with a fork then set aside to cool a bit.
Add the quinoa, tuna, cherry tomatoes, radish and herbs to two plates and crumble over the feta cheese.  Drizzle over the dressing and season further if you like.
Serves: 2