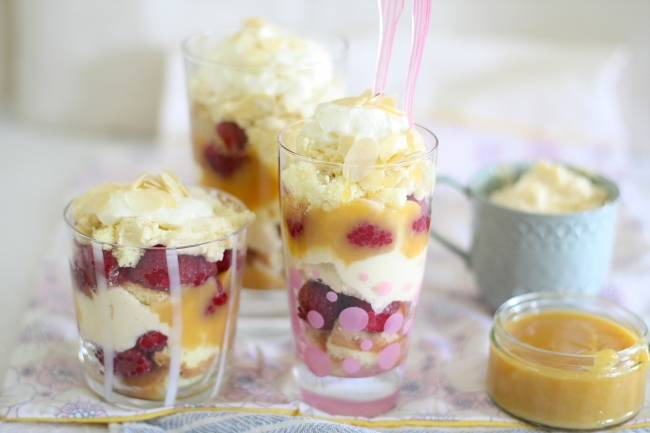 Well it's just not Christmas without some sort of trifle so this year, I made a lemon flavoured trifle with my favourite berry, raspberries.  You don't have to make this only at Christmas either, it's an easy yet pretty summertime dessert which you can make ahead and also, anything with layers of different things looks like you went to heaps of effort.
And like any other trifle, pieces of sweet cake were drizzled with liqueur but this time I used Limoncello.  I've started using Limoncello around Christmastime as a sort of tradition; it's intensely lemony/sweet and goes with so many cocktails and dessert recipes, it's really lovely.
The boozy cake (I went a bit overboard with the Limoncello, oops!  Feel free to take it down a notch) piled with creamy, fluffy mascarpone, gorgeously rich lemon butter, fresh seasonal raspberries and a dollop of cream scattered with crunchy, flaked almonds was very well received.  I think most people enjoy these sorts of creamy, lush desserts don't they?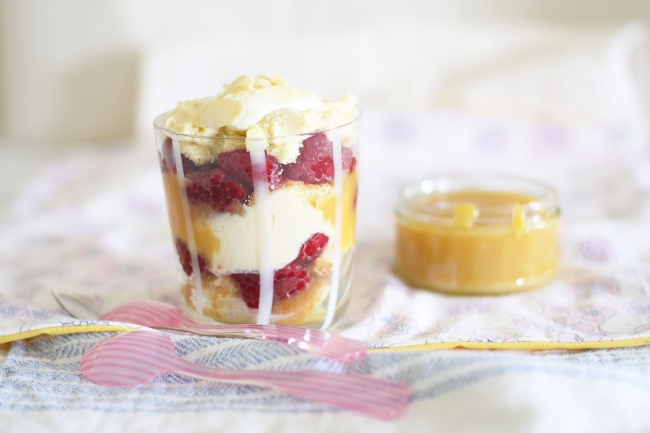 Recipe for lemon raspberry trifle:
1 single plain sponge cake, halved diagonally then cubed (around 220g)
Limoncello
3 x 125g punnets fresh raspberries, rinsed and dried (375g)
Ready whipped cream
Flaked almonds
Mascarpone:
1/3 cup raw caster sugar
60mls lemon juice
500g mascarpone
1 tspn vanilla bean paste
1 tspn lemon zest
Lemon butter:
2 large eggs, plus 2 large egg yolks
3/4 cup raw caster sugar
80g unsalted butter from the fridge
Zest and juice of 2 lemons (wash them first)
1 tspn vanilla essence
Mascarpone:
Place sugar and lemon juice into a small pan and stir over low to medium heat, until sugar dissolves.  Set aside to cool completely.
Add mascarpone to a large mixing bowl, add cooled lemon syrup then use an electric beater to beat on low to medium speed for a couple of minutes, until fluffy in texture – don't overbeat.  Fold through vanilla bean paste and lemon zest – set aside.
Lemon butter:
Whisk eggs, yolks and sugar in a small to medium heavy based saucepan until smooth and creamy in texture.  Place pan over low heat.  Add butter, zest, juice and vanilla essence immediately, whisking continuously.  Turn up heat gradually to medium (mixture shouldn't be simmering as such, but you should see a bit of steam) and continue whisking for around 5 minutes, or until mixture is thick, glossy and yellow.
Strain through a sieve into a sterilised jar if you're not going to use it straight away although I have kept mine in a clean, covered jug in the fridge for a couple of days without any problems.
Trifle:
Assemble trifle by using a bunch of pretty glasses and placing ingredients in layers (alternately you could use one big glass bowl if you prefer): I scatter some of the cake in the base of the glasses and drizzle over some Limoncello then go from there.  It's also a good idea to gently press down the trifle as you go so the layers squish into each other a bit (very scientific I am).
Allow to sit at room temperature for 15-20 minutes before serving (if you live in a hot climate, I would chill in the fridge for 20 minutes, then sit at room temp for 5 minutes or so).
Serves: 6
Note: lemon butter and mascarpone can be made in advance.
Lemon butter recipe adapted from and sterilising advice via: Taste