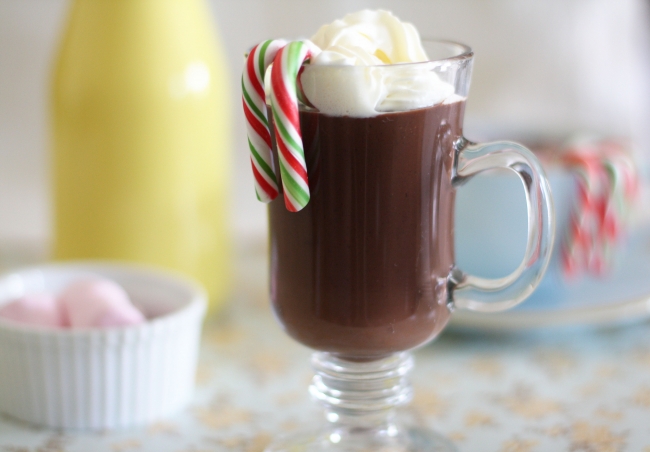 We in Australia can become a bit gloomy about our hot Christmases.  Don't get me wrong, Christmas is lovely and all that but we miss out on all that cosy, frosty stuff.  And if I see one more ad with Santa surfing or wearing board shorts ..
So I thought I'd pretend we're having a snowy Christmas by making a hot chocolate recipe I love; Italian hot chocolate with peanut butter added!  So good and so decadent, you really need to serve it with a spoon.
Admittedly, while I was making this, then taking the photos, feeling a bit hot and sweaty I started wondering what on earth made me think making hot chocolate on a summer day would be anything like a good idea but then …. both Ant and I tasted it; oh my, thick, creamy, silky smooth, darkly chocolate with a hint of peanut butter which made it all worthwhile.  On a chilly night in your PJs, curled up on the couch, this would be perfect.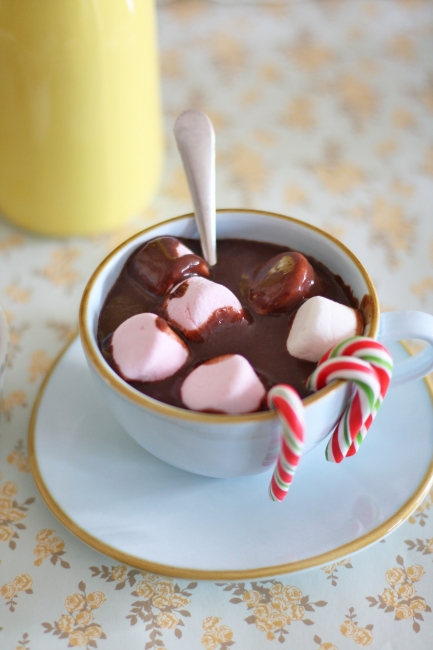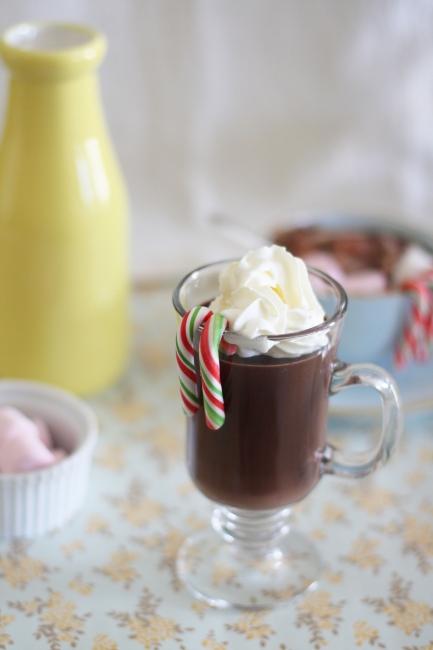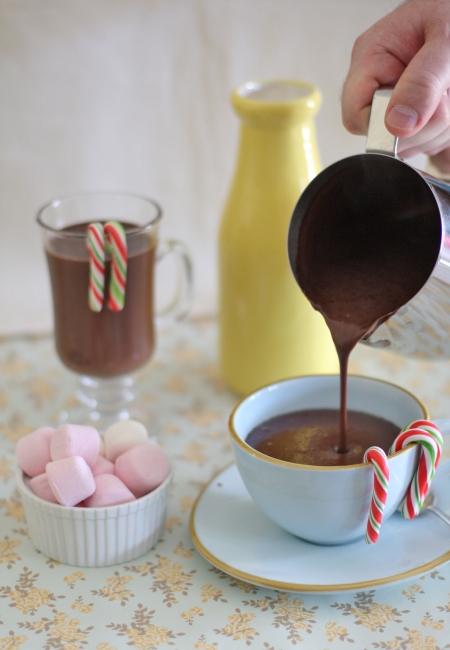 Recipe for Italian hot chocolate:
500mls full cream milk
2 x 15ml tblspns cornflour
2 x 15ml tblspns hot chocolate powder
200g dark chocolate, chopped
1 tspn vanilla extract
3 x 20ml tblspns raw caster sugar (or to taste)
2 x 15ml tblspns smooth peanut butter
Topping:
Whipped cream or marshmallows
In a small dish, add enough milk to the cornflour to make a smooth, pourable paste – mix until smooth.  Pour remainder of milk into a medium sized, heavy based saucepan and bring just to the boil over medium/high heat then add chocolate powder, chocolate, vanilla extract and sugar and stir briskly using a wooden spoon until chocolate is completely melted, then add peanut butter and stir until mixture is smooth and creamy.
Take pan off the heat and add the cornflour, quickly stirring into the hot chocolate as you pour to avoid lumps.  Continue simmering hot chocolate gently over low/medium heat, stirring until thickened.  Once mixture has thickened to a pourable yet thick and creamy consistency, remove pan from the hotplate and serve straight away.
Top with whipped cream or marshmallows.
Serves: 2 large, 3 medium sized, 4 small