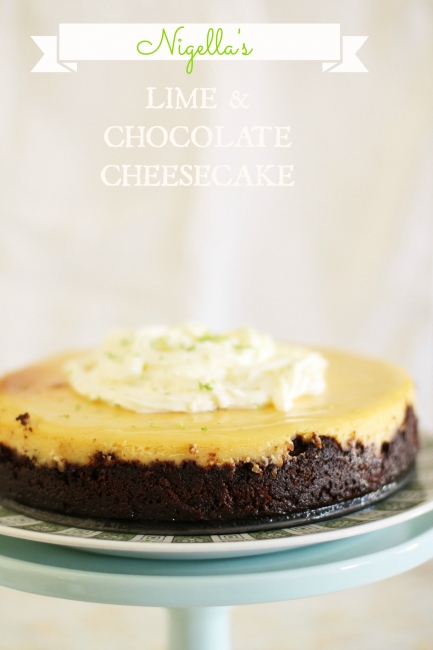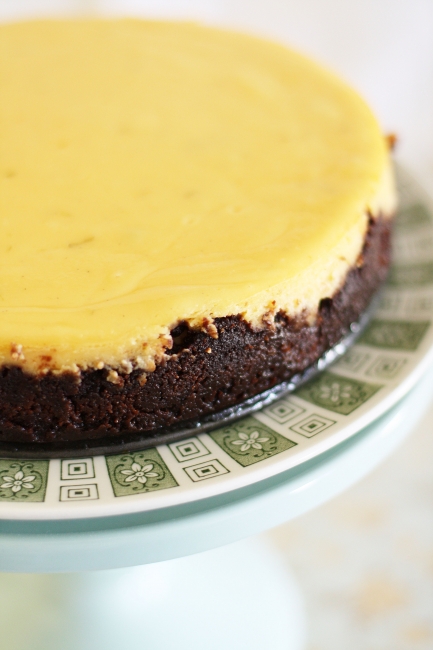 In support of Nigella, whom I love (and I won't hear a bad word about her, or read it for that matter), I thought I'd make one of her classics on the weekend.
I really enjoyed the combination of chocolate and lime in this!  Also, this recipe is pretty basic in that there's no flour or sour cream or anything, just a wonderfully old-fashioned cheesecake brightened up with zesty lime flavours and a rich, dark chocolate base and of course, being a Nigella dish, it's wonderfully decadent, rich and luscious.
Try to keep it in the fridge for a few hours; we didn't, as you can probably see, because somebody was champing at the bit to try a piece.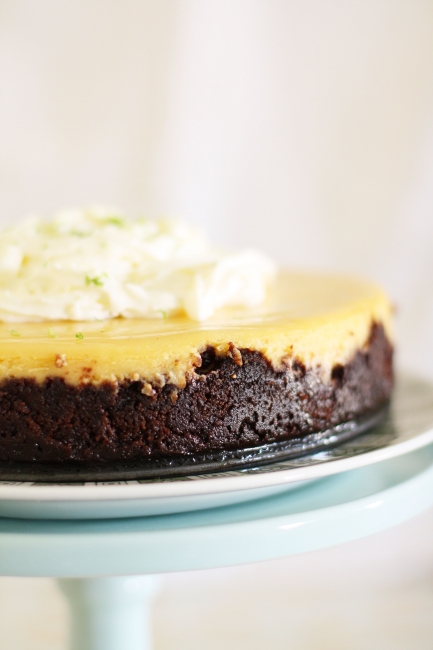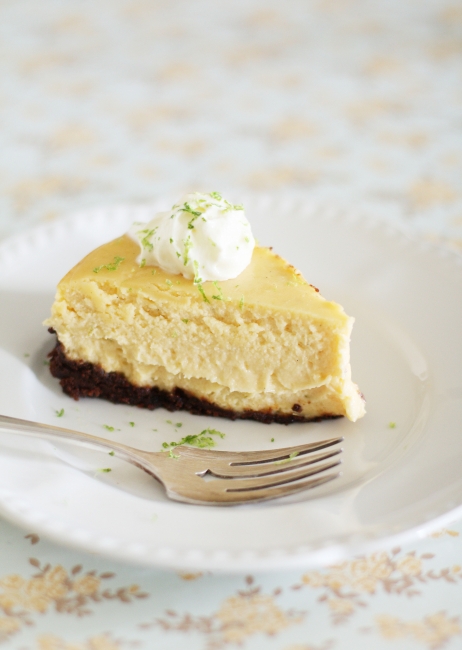 Recipe for Nigella's chocolate lime cheesecake:
1 x 250g packet Arnott's Choc Ripple biscuits
100g unsalted butter, melted
750g (3 x 250g packs) full fat cream cheese (can use reduced fat)
1 1/4 cups raw caster sugar
4 large eggs
2 large egg yolks
1 tspn vanilla bean paste
Zest and juice of 3 small limes (around 50mls of juice)
Whipped cream and extra lime zest, to serve
Grease a 21cm springform pan (with removable sides).  Place on 2 sheets of foil and wrap tightly around the base and up the sides.  Set aside a deep, rectangular baking pan for the cheesecake so it will protect your oven from any leakages while the cake is baking.  Preheat oven to 180C and make sure to place a rack in the middle of the oven.
Grind biscuits to a fine crumb using a food processor (you can place them in double freezer bags and bash with a rolling pin if you prefer however the crumb won't be as fine).  Add to a large bowl and add the melted butter, stir to combine then press over the base and a little bit up the sides of the prepared pan.  Chill while preparing the filling.
Set a full kettle onto boil.
Place cream cheese and sugar into a large bowl.  Beat on medium speed until smooth, for around 2 minutes, scraping down the bowl as required.  Add eggs and egg yolks, one at a time, beating on low speed until combined after each addition.  Add vanilla extract, lime juice and zest and beat further on low speed until everything is combined well, smooth and creamy (don't over-beat – I finished it off by folding through with a wooden spatula).  Remove crust from the fridge and carefully pour in the filling.  Place the cheesecake onto the prepared rectangular pan, pour just boiled water into the rectangular baking pan so it comes up around half way.  Place in the oven very carefully so you don't spill the boiling water and burn yourself.
Bake for an hour or so (Nigella says to check after 50 minutes) or until the cheesecake is set around the edges and a bit wobbly in the middle.  Remove the cake tin carefully from the water and the foil and onto a cooling rack; you'll see some melted butter in the foil from the base, so if you prefer, place cooling rack over some baking paper or a plate or something.
Allow cheesecake to cool to room temperature completely then chill, covered in the fridge for a few hours or even overnight.  Run butter knife carefully around the sides of the cake and remove the sides.
Serve with whipped cream and extra lime zest sprinkled over.
Serves: 8-10
Recipe adapted from: Nigella Bites and can be seen at Nigella.com