Although I love fruit (not a fan of the no sugar/fruit trend currently), I'm not overly keen on fruit with savoury meals although certain fruit works really well; apricots, figs and currants in Moroccan cooking, for example and our lovely Queensland mangoes which go perfectly tossed through salsa.  So for a lovely warm weather meal today, I made a super simple, summer inspired salsa, tumbled over some buttery Atlantic salmon.  This salsa is really worth making, it's ever so slightly spicy, creamy, fresh and sweet and would also be a tasty accompaniment in a soft taco with crispy, grilled chicken or spooned onto Thai fish cakes.
And it's not as if I'm into low carb particularly, but this dish is that and so healthy and full of omega 3 fats, as well as satisfyingly rich and full of flavour.  On hot days, you could make the salsa in advance, chill in the fridge then cook the salmon and plonk on some salsa for an easy dinner.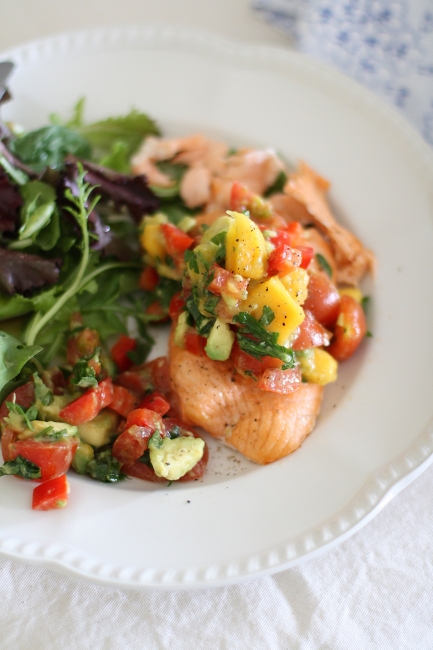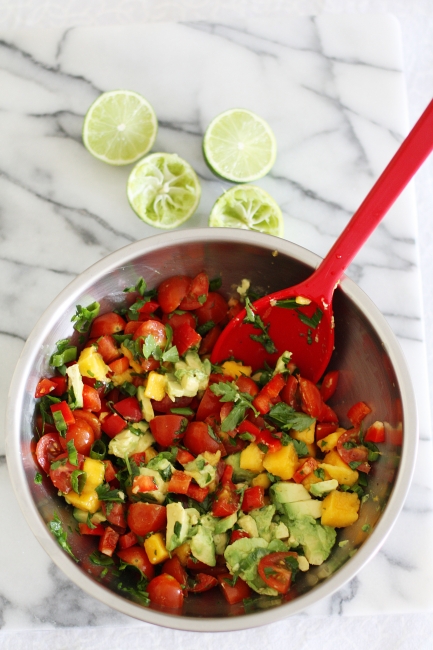 Recipe for Atlantic salmon with summer salsa:
4 x 130g Atlantic salmon fillets, fresh or frozen
1 medium mango, diced
250g cherry tomatoes, diced
1 small red capsicum, diced
1 medium avocado, diced
Handful coriander (cilantro) or continental parsley, chopped finely
Handful spring (green) onions, diced
Dressing:
20mls lime juice
20mls macadamia nut oil
Small pinch chilli flakes
1/4 tspn raw caster sugar, agave nectar or brown rice syrup
Freshly ground black pepper and sea salt
100g fresh greens (lettuce, rocket, watercress)
Squeeze of 1 lime
Flaxseed oil (or oil of your choice)
Preheat the oven to 200C.  Place baking paper onto a baking dish and place on salmon fillets.  Drizzle over a bit of oil, season well then rub over the fillets.
If frozen, bake for 18 minutes or for fresh, around 8-10 minutes should do it, or until done to your liking (I prefer rare in the middle and flaky around the edges).
Meanwhile, add the first lot of ingredients to a medium sized bowl and combine gently using a spoon.  Add the dressing ingredients to a bottle and shake well then, just before the salmon comes out of the oven, drizzle over the salsa ingredients and stir gently through.
Place greens evenly on 4 plates and drizzle over a squeeze of lime juice and some flaxseed oil.  Place salmon fillets on each plate and spoon over salsa.
Serves: 4