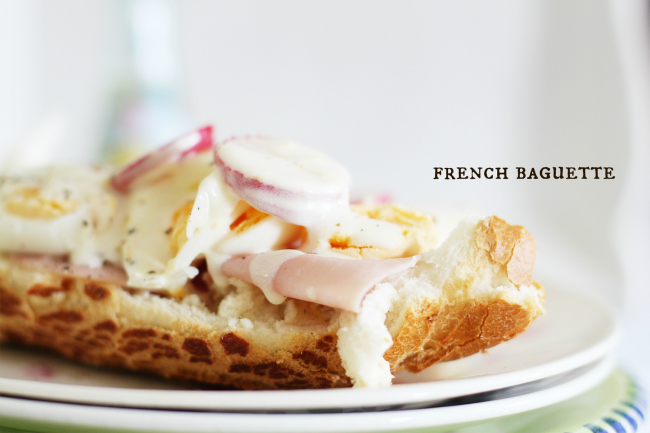 One of my favourite things to eat on the weekend is a sandwich or roll made with fresh, seasonal ingredients (and is there anything much better than fresh bread?).  So we usually go down to the grocery store and bakery and pick up some nice stuff, come home and put it together.  Of course, this often means we overdose on bread that day and have endless half-empty bags of bread in our freezer, but hey, it's worth it.
I find also, that simple is the best so I generally only use 3 to 4 ingredients as a rule (this also applies to pizza and pasta).
This lovely, French inspired baguette tasted great and was perfect on a warm Spring day; crunchy, fresh bread with crisp, hot radishes, savoury fresh ham, creamy eggs and sweet lemon dressing.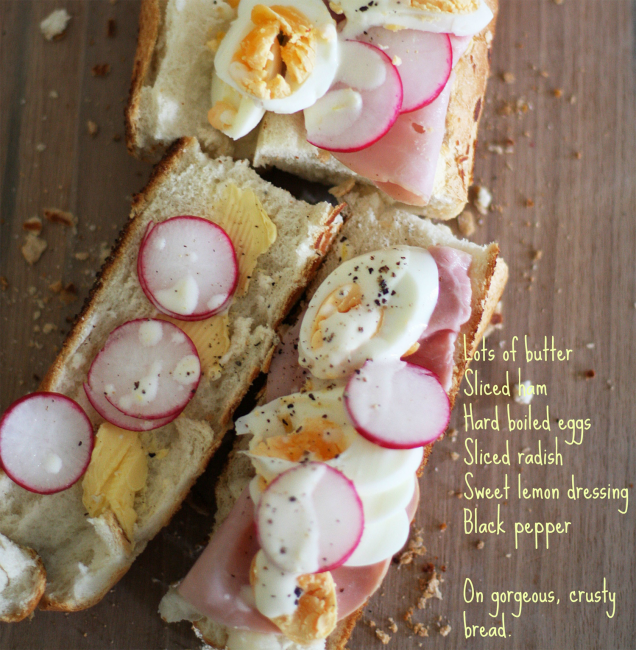 Recipe for French inspired ham baguette:
1 baguette
Unsalted butter
As much good ham as you prefer, sliced thinly
A few radishes, sliced thinly
3 hard boiled eggs, sliced
Freshly ground black pepper
Sweet lemon dressing:
2 x 20ml tblspns sour cream
30mls macadamia nut oil
15mls lemon juice
1 tspn lemon zest
1 scant tspn agave nectar
Dressing:
Whisk ingredients in a bowl until combined and creamy.  Set aside.
Slice 2 generous sized pieces from baguette and butter generously; layer on ham, radish and eggs and drizzle over dressing.  Season as desired.
Serves: 2