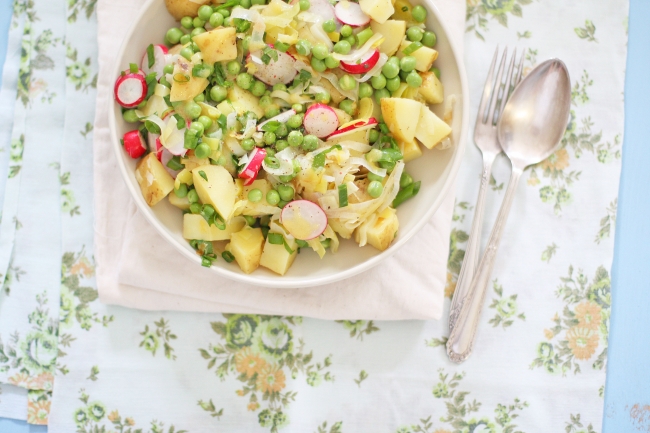 It's funny how I hate frozen peas but love fresh ones.  Shelling peas always reminds me of being a kid and I'd eat more peas than would go in the bowl for mum.  Sweet, crisp and light, they were perfect in this spring inspired salad with spicy radish, creamy potato, rich buttery leeks and a creamy, zingy, mustard dressing.
I've tagged this vegan because it is that, without the boiled egg.  For those of us not vegan, the hard boiled egg adds a heartiness to the salad but isn't really necessary as it's lovely on it's own.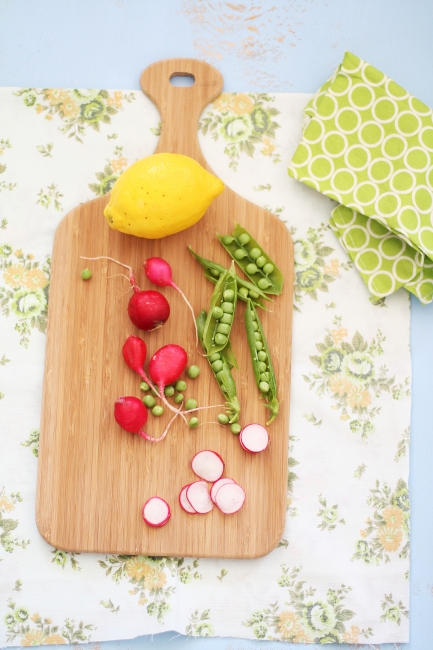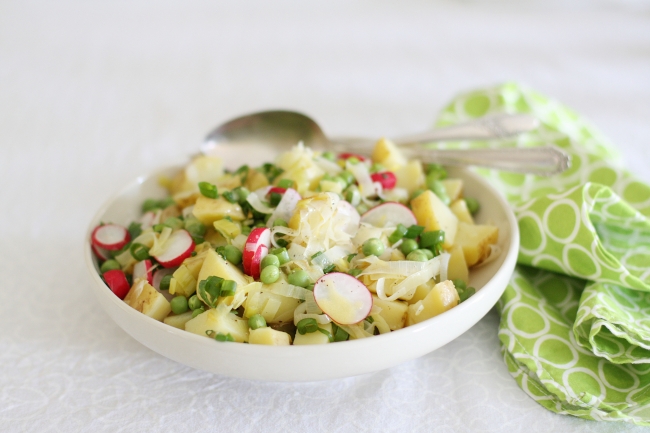 Recipe for spring pea and potato salad:
1 large leek, rinsed, dried and sliced thinly
Unsalted butter or vegan friendly margarine
400g organic Dutch Cream potatoes (or similar potatoes suitable for salads)
1 cup of freshly shelled spring peas
4 spring (green) onions, sliced thinly
A handful of radishes, sliced thinly
Freshly ground sea salt and black pepper
2 hard boiled eggs, quartered (optional)
Lemon zest
Mustard dressing:
60mls extra virgin olive oil
30mls white wine vinegar
2 tspns Dijon mustard
1/2 tspn raw caster sugar, brown rice syrup or agave nectar
1/2 tspn lemon zest
Cut potatoes into small cubes (I leave the skin on) and boil covered over low simmer until tender.  Drain potatoes then add back into the pan and place over the still warm hotplate and toss gently for a few seconds to dry.  Set aside to cool.
Add dressing ingredients to a bottle and shake well until combined and creamy.  Set aside or store in the fridge if using later.
Add a 15ml tablespoon of unsalted butter to a small/medium sized, heavy based saucepan and add the sliced leek.  Slow sauté over lowish heat with the lid on, stirring regularly, for around 10-15 minutes, or until softened and slightly caramelised.  Set aside to cool.
Add the potatoes and remainder of the salad ingredients to a large bowl, add the leek and season well.  Drizzle over dressing until everything is coated nicely – add a bit more lemon zest if you like.  Toss gently until combined.
Serve straight away (although leftovers can be stored in the fridge).  This is best served at room temperature.
Serves: 2 large, 3 small