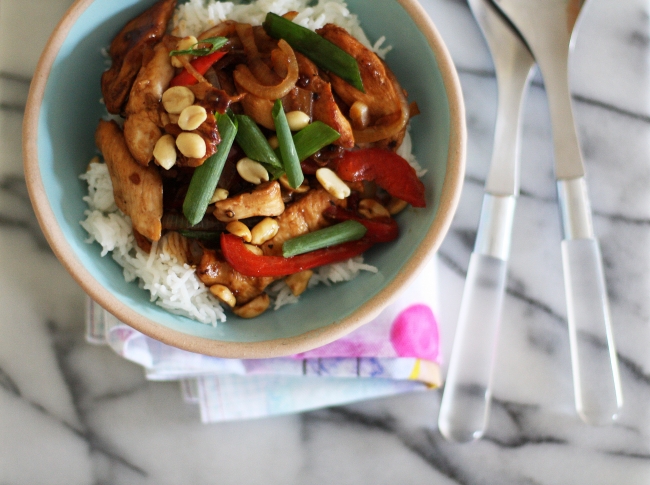 Although I make ye olde basic curries quite regularly (chicken stock, coconut cream, chilli paste), I don't do fancy Asian cooking very often because although I love it (Thai, Indian, Chinese and Japanese cuisine are among my favourite foods), I can't do this type of cuisine justice in the same way they're traditionally cooked by those folks who really know what they're doing.  For example, my favourite Thai restaurant in Brisbane makes such lovely curries and stir-fries (how do they get the vegies so deliciously crisp?  The spices so perfectly in harmony? Mine are never like that).
I'm always a bit embarrassed by my attempts and end up apologising to whoever I've made it for.
Still, every now and again I feel like dragging out the wok and whipping up a stir fry or whatnot and I really wanted to cook this classic Chinese dish, firstly because of the cool name but secondly because it's just so pepper-hot and packs such a punch, I couldn't resist giving it a go.  Sadly I couldn't find any Szechuan peppercorns but if you manage to find some yourselves, I reckon they'd be well worth it; from what I can gather, Asian grocery stores and delis are the places to find them.  I ended up buying those coloured peppercorns and toasting them like my dad used to.
I was so happy with this!  It's very easy and I felt vindicated from my previous attempts; a bowl of this awesomely spicy, peppery, subtly sweet stir-fry, some fluffy rice plus an icy cold beer was awesome.  Some days you just need a curry.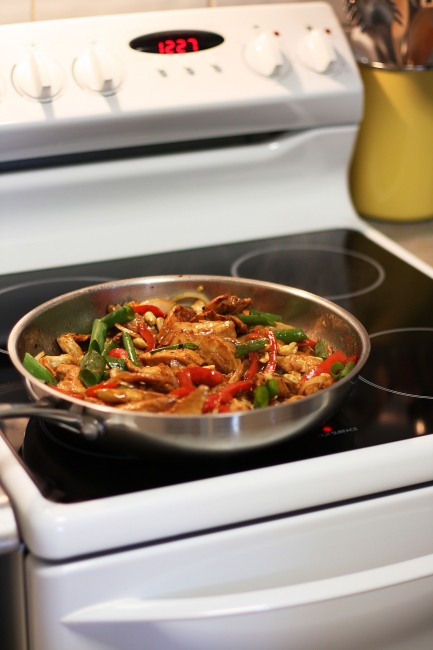 Recipe for Kung Pao chicken:
Szechuan peppercorns or tri coloured peppercorns
40mls Mirin or Mirin seasoning
2 x 20ml tblspns peanut oil
40mls low sodium soy sauce
1 x 15ml tblspn cornflour
60mls low sodium chicken stock
3 tspns brown sugar
15mls balsamic vinegar
1 medium onion, sliced
3-4 cloves of garlic, crushed
1 tspn fresh grated ginger
1 large red capsicum, sliced
Chilli flakes to taste or 2 red chillies, sliced (seeds removed if preferred)
500g skinless chicken breast, sliced into bite-sized pieces
4 spring (green) onions, sliced on the diagonal
50g roasted peanuts
Steamed basmati rice to serve
If using whole peppercorns, place 1-2 tspns of peppercorns (however spicy you want) into a medium hot pan and toast, moving pan around continuously until fragrant.  Place into a mortar and pestle, cool a bit then grind as well as you can.
Add mirin, 10mls oil, 20mls soy sauce and 1 teaspoon of cornflour to a stainless steel or glass bowl and whisk to combine.  Add chicken pieces and mix through, covering well.  Place in the fridge to marinate for around 45 minutes, then remove chicken pieces with tongs onto a plate, setting aside the marinade.
Add remaining cornflour to a small bowl and gradually pour in 20mls soy sauce, stock, sugar and balsamic vinegar, whisking to combine until dissolved.
Heat 15mls oil in a pan or wok to low-medium heat and add desired amount of ground peppercorns (I used 2 tspns), onion, garlic, ginger, capsicum and chilli flakes, stirring to lightly sauté until light golden brown and softened.  Use slotted spoon to move to a plate and add remaining oil to pan, turn up heat to medium-high then use tongs to add chicken, in 2-3 batches. to the pan and toss around until golden brown and almost cooked through.  Turn heat back down to medium, then add in cooked vegetable mixture, reserved marinade and stock mixture, stirring through well and continue to simmer for 2 minutes or until chicken has cooked completely and sauce has thickened.
Take pan off the hotplate and stir through spring onions and peanuts.  Serve with steamed rice and a cold beer!
Serves: 4
Adapted from:  SBS